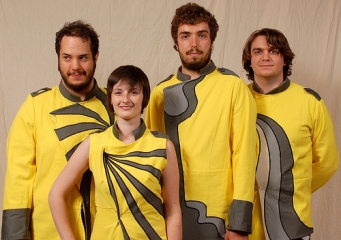 Anticipation can be a relatively deceptive thing. It has no bearing on the actual result of a product or action, even if hype can sway us otherwise. I can only imagine how the few remaining Guns N' Roses fans felt those 15 years between new albums, only to experience Chinese Democracy as an average release that was typically reflective of aging rockers. For their age and lack of recent experience it was actually pretty good, but "living up to the hype" is difficult to accomplish when years of inactivity build up. It almost seems safer for bands to go with the In Rainbows method, where a surprise announcement was made two weeks prior to release. Although they lack the on and off-stage embarrassments of Axl Rose, the 13 years it took Flotation Walls to release a new album nearly compares to the span of Chinese Democracy. There was no major press coverage for nearly two decades, but those around Flotation Walls' native city have been following the collective for quite some time. Columbus, Ohio have been fond of Carlos Avendaño's various incarnations since 1996, when the first conception of Flotation Walls was introduced. The long-awaited release of their debut full-length should expand that demographic significantly, as the years of acquired experience has propelled Flotation Walls to territory only familiar to those that are already venerated and influential.
A 13-year hiatus to begin your career is difficult to grasp, but it simply makes Nature one of the most experienced debuts you are going to hear. The release is chock full of so many ideas that it sounds like a band chronicling their career, rather than exposing it to listeners for the first time. It remains stylistically unpredictable without drowning in its own ambition, maintaining the perfect mixture between caressing indie-folk and unclassifiable strokes of genius that encompass parts Afro-pop, yé-yé, and IDM electronica. Part of this multifarious brilliance can be attributed to Avendaño's patience, which restrained him from even working on Nature until 2004. This allowed nearly a decade of practice and thought before even starting Flotation Walls' sprawling debut, which sounds more polished and confident than most releases in the flexible genre of art-pop. The group relies on choral odes, sweeping orchestral accompaniments, and stylistic precision as their primary strengths, touching upon both theatrical alt-rock in efforts like "Frozen Lake" and haunting psych-folk in "Kids, Look at the Waves". Both make excellent use of vocal samples, placed and used accordingly in relation to the style at hand. The chugging and solemn acoustics of "Kids, Look at the Waves" are accompanied by a chorus of what sounds like a cross between a hushed church choir and a procession of pleading spirits. As Avendaño propels his narrative sputtering into a full-scaled fury, the percussion intensifies as the backing samples convey more prominence. It is one instance of many in which Nature provides the listener with extreme depth in regard to both musical layers and emotional precision.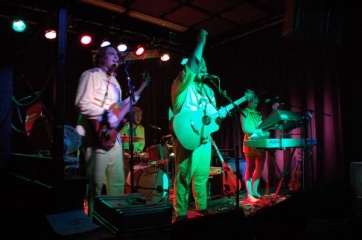 Nature is ambitiously successful without appearing pretentious because of its shared use of both the conventional and avant-garde, with the latter often appearing more subtly in tracks that initially have the feel of a radio-friendly gem. "Frozen Lake" inherits a very traditional structure and anthemic sort of bleakness, though there remains certain components like reversed strings, reverbed whistling, and whirring crescendos that make this more reminiscent of post-rock. Like many of the tracks on Nature, its somber instrumentation collides wonderfully with optimistic lyrics that often use nature-oriented imagery as metaphors to life's routinely struggles. "They watch as we mate and cross-pollinate from nests and hives," Avendaño sings with glee over polka-like accordions on the opening "Sperm & Egg", reminding me distinctively of the theme surrounding Mirah's Share This Place: Stories and Observations (a concept album revolving around the lives of insects). Like Mirah or contemporaries in the vein Of Montreal, Flotation Walls implement thematic progressions with ease over ambitious stylistic works despite any impulsive instances of sloppiness that may serve as a consequence. Those moments are rarely found on Nature, from to a delicate piano-led ballad in "The Sky Ejaculates". A ballad, that is, until a beautiful array of woodwinds and hectic keys lead a conclusive charge of brilliance. It is exemplary of the group's rash and unpredictable structural nature, a tendency that works to their benefit throughout Nature. They hold nothing back and stunning melodies are constructed as a result. If listeners can exemplify even half the patience Avendaño did when creating this album, they will be greatly awarded.
"Although I hate my face, although I take up space, the sky ejaculates," are words spoken on the previous track, and although it serves as an interesting albeit simplistic poetic gesture it avoids placidity through its accompaniments. Nature almost plays like a musical in that sense, since Avendaño articulately arranged each track in accordance to the lyrical content at hand. This particular moment of "The Sky Ejaculates" is exposed when Avendaño's vocals are growling with predetermined angst, a tidbit that would have never been predictable at the serene, key-driven opening of the song. "The Flickering Projection" and "Willis the Fireman" are more conventional in this sense, with their respective aims in psyche-rock and indie-pop, but still maintain their melodic and narrative allure through some excellent instrumentation and vocal performances (which listeners will grow accustomed to by the album's third or fourth track). Ryan Stolte-Sawa provides quite a bit with his contributions on piano, synthesizer, and violin, while bassist Zak Moses and drummer Luke Brevoort comprise a very active rhythm section that is most impressive on an effort like "Worms", where the trickling of percussion often resembles a growing infestation that grows in alliance with progressing guitars and synths. When the imminent explosion of anthemic bliss occurs with all sorts of brass, choral samples, and rhythmic expression, it should properly prepare listeners for an album like Nature. This is one of those rare releases that accomplishes intricate ambition without pretentious consequences, which is an association only the most inventive and confident can avoid.
RIYL: Of Montreal, Mirah, Arcade Fire, Radiohead, The Polyphonic Spree, Bryan Scary, Architecture in Helsinki, Kings of Convenience, Grandaddy, Tripping Daisy, The Flaming Lips

——————————————————————————————
Flotation Walls – The Flickering Projection
[audio:http://mineorecords.com/mp3/fwalls-fli.mp3]
——————————————————————————————
——————————————————————————————
Flotation Walls – Kids, Look at the Waves
[audio:http://mineorecords.com/mp3/fwalls-kid.mp3]
——————————————————————————————
——————————————————————————————