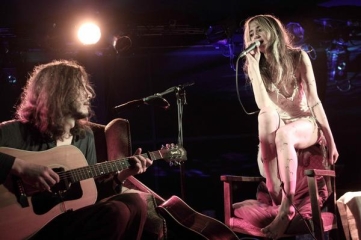 It is risky to tackle a style that fuses several aspects of an overlooked past, particularly in regard to stylistic movements that took place decades ago. This was a time before our generation's fascination with excess took hold on all forms of media. Popular music has always aligned with the cultural times and the interest in reality television and media excess are a few of the aspects it has overlapped with. While not direct contributors to the overproduction we see in much of pop music today, the frequency of junk culture's fascination seems to correlate with the occurrences of overproduction, which is most commonly displayed when stolen or generic ideas are cloaked under layers of superfluous celebrity cameos or accompaniments. Most independent artists steer clear of this and many admire that, but Ruby Throat are a unique powerhouse in this regard. The music of the London-based duo benefits from every subtlety that their graceful form of folk produces. Vocalist KatieJane Garside literally has the voice of an angel, reaching octaves that even the most trained of humans are not capable of. When she infuses her unique vocal talent with the brilliantly intricate work of multi-instrumentalist Chris Whittingham, Ruby Throat produce a sound that is defiantly incomparable.
It is rational to associate folk music with traditionalism of the past, especially when it serves as one of the most consistently played styles of music around the world. Its universal recognition allows the utmost accessibility for new artists since quality folk does not necessarily demand more than one instrument. One reason for its durability is the flexibility of its beauty. One can never confidently predict what is at the heart of a folk song, whether it lies in heartfelt lyrical content or the best damn lap steel you have ever heard. This puts talent at a focus point, which is foreign to most genres since extraneous musical elements would consequently remove the given effort from the folk genre. As a result, the questions asked when trying to improve insufficient folk music lie in its passion and barrenness: is the track unpredictable enough to hold a listeners interest and are the emotions displayed sincerely enough to convey any potential relation? The work of Ruby Throat certainly have both down pat, proving how truly effective the relationship between Garside and Whittingham is.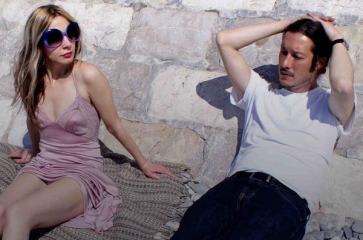 A recent quote from Garside caught my attention the other day when I was thinking of how to describe a band as ethereal and unique as Ruby Throat. She wrote that their second album, Out of a Black Cloud Came a Bird, resembles "a B-movie with resentfully gorgeous camera angles". Any comparison to a B-movie is bound to be insulting, as no one wants to be compared to a 3PM FX showing, but listening to this beautiful album makes such comparisons suddenly apparent and surprisingly complementary. Using little more than the direct means of guitars, vocals, and stellar homemade production, the duo have constructed a rare achievement for lo-fi, DIY art in which they have transformed a familiar style into their own innovation realm with a very constrained arsenal. This album bristles with emotion and innovation as a result; the duo uses every trickle of reverb and looped sample to their absolute advantage, never overpowering their guitar-dominated folk sound while maintaining constant enthusiasm and passion. "Billows Her Skirt" is all one really needs to get a taste of this exceptionally unique act. Do not blame your spine for the chills the song provides; the thing responsible here is the exceptional talent of Garside and Whittingham. If eccentric folk music is your sort of thing, this may be your new favorite track.
The use of controlled distortion over high-pitched guitar arpeggios, the muddled whispers of backing synth pads over reverbed acoustics, and Garside's endlessly consuming vocal range all bring emotional freak-folk to dizzying heights on Out of a Black Cloud Came a Bird. Their entry into the upper echelons of freak-folk and dream-pop is practically imminent after this release, where they will sit alongside artists like Marissa Nadler, Devendra Banhart, and Beach House in devising an incomparably empowering vein of folk that would make the genre's forefathers proud. This is music that does more than provide an ode to one of the world's most familiar genres. It wears its own mask, one that is truly unique enough to exist as a separate and unclassifiable stylistic concoction altogether.
——————————————————————————————
Ruby Throat – Billows Her Skirt
[audio:http://mineorecords.com/mp3/ruby-bil.mp3]
——————————————————————————————
——————————————————————————————
——————————————————————————————