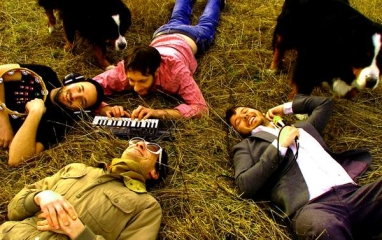 Before this Washington-based quartet changed their name to The Nightgowns, they went under The Elephants. It was an especially apt name for them at the time, especially since they were renowned more for circus tricks than music at the time. Although their musical potential was evident from the get-go, The Elephants' first etchings of a reputation was derived from their unpredictably energetic behavior during live shows. Their music used to be an afterthought. Tracing back to the days where ordering tickets online was not an option, The Elephants' influences were shown distinctively to be ones with a reputable stage presence. Maybe it was that artists recognized more of a struggle for fans to see them in the past, or perhaps it relates to new expectations surrounding an artist on a major label. The problem is, you rarely find bands anymore worth promoting through bootlegs. It is amazing how some groups in the '70s and beyond could gain a following based on their live output alone. The swapping of cassettes provided a more arduous process than mix-tape e-mails, but also one that felt more genuine and personal. The result from this nearly extinct form of exposure was a bunch of bands that were able to hit the big time because of their natural stage presence and charisma, only to let their reputation carry them as they acquired the experience necessary to produce a gem that would allow listeners to remember them as both a studio and live band. Contrary to what most popular artists today exemplify, it is entirely possible to excel as both.
They may have not been able to produce their groundbreaking musical statement until 2009, but The Nightgowns are a throwback in the sense that their success is not coordinated by today's methods. Personally, I was referred to them by Jordan Luckman of Mono in VCF, a band that I thought had one of the most memorable debuts recently. I rarely receive submissions via recommendation like this, and for an artist to receive one from another artist I respect catches my attention over the others for good reason. Word-of-mouth, particularly when its direct from musicians themselves, concerning quality artists is still abundant if you consider payola-incorporated radio "word-of-mouth", but whether it is coming from the mouth of a music-loving individual (like me or you) or a corporation is a question that has recently emerged. Jordan told me that The Nightgowns were one of Mono in VCF's favorite bands and that I would be a fool to miss out on them, even if it did come after the best albums of '09. It turned out he was right. Sing Something, their first release under The Nightgowns name, is likely good enough to make that list. It is clear they have matured their songwriting abilities while maintaining the social exuberance that made them such a phenomenon during live performances when they were known as The Elephants.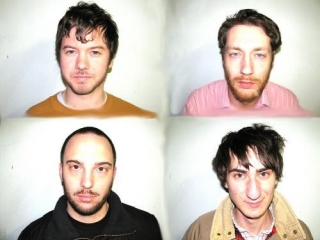 Probably the biggest allure of The Nightgowns' sound is how relevant it is. Relevance is admittedly subjective in any art form due to the sheer flux of a stylistic trend, unlike a subject area like politics or mathematics, but anyone who listens to either of the samples below should know what I mean. An immediate comparison would be that to the works of David Terry (better known as the brains behind Aqueduct). Although his status as an '80s kid is solidified by unmistakeable melodic odes to the decade, Terry employs a richly infectious partnership of throwback pop and contemporary techniques to produce something that would be called radio-friendly both today and in 1980. "Heart Design" is a good example of this. The Nightgowns follow in similar suit. Their style is generally cohesive, though some tracks on Sing Something do have a bias in leaning toward either electro-pop or a modified variation of post-punk. "Narwhal Aerobics" tends to gravitate toward the former, preparing the listener for whirring layers of synth and punchy bursts of bass that have a clumsy appeal to them, much in the vein of The Helio Sequence and Hilotrons. The production is not going to make your hat fall off, but the maturing songwriting and emphasis on infectiousness over stage presence has resulted in a possible breakthrough for a four-piece that deserves it.
A track like "Big Bang" is more familiar with its post-punk roots. The Nightgowns are not nearly dark or brooding enough to encompass influences like Echo & the Bunnymen, so an effort like "Big Bang" resembles more contemporary post-punk in the vein of Interpol in its upbeat percussion, coherent production, and accentuated use of tremolo. Rhythm is a major component throughout Sing Something, which is not surprising consider electro-pop and post-punk are the two major stylistic influences at hand. In the case of "Big Bang", think Interpol's "Obstacle 1" mixed with the goofy-but-fun '80s charades of Aqueduct; the result is both nostalgic and relevant, a combination that only allows when an artist truly grasps their sound and showcases it consistently. The Nightgowns instantaneously capture the sparkling electro-pop of the '80s and the recent indie-rock/electronica infusion that seems to be the predominant factor for many successful artists these days, independent or not. Sing Something finds the perfect medium between fun electro-pop ("Narwhal Aerobics"), summery art-rock ("Buoy"), and somewhat darker post-punk ("Big Bang") to juggle both cohesion and outright infectiousness, resulting in one of the more overlooked releases of 2009.
RIYL: Aqueduct, The Flaming Lips, Jesus H. Foxx, Interpol, Two Door Cinema Club, Savoir Adore, Bright Eyes, Ball of Flame Shoot Fire
——————————————————————————————
The Nightgowns – Narwhal Aerobics
[audio:http://mineorecords.com/mp3/ngow-nar.mp3]
——————————————————————————————
——————————————————————————————
——————————————————————————————