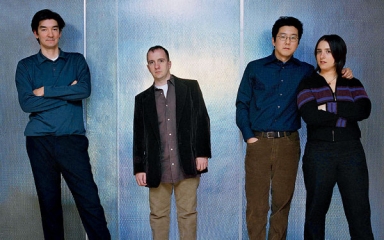 by Jay Mattson
What comes to mind when you think of the Magnetic Fields?  Is it Stephin Merritt's haunting vocals?  Is it the band's minimally powerful melodies? Perhaps you remember the digital-via-analog production that confounded and pleased you at the same time.  Or maybe you just think about the utter emotion poured into every song without a hint of excessive effort.  All of these sentiments are legitimate and worthy of one of the most under-appreciated independent rock bands of the modern era.  Though the band's beginnings extend to the early 90s, it was the release of 69 Love Songs in 1999 that truly showed the world what Merritt could achieve.  Originally planned as a 100-song musical theater-esque project, Merritt himself conceded that 100 was a gargantuan number to undertake and partitioned the vision down to 69, obvious sexual connotations intact.  On a personal note, 69 Love Songs was my first exposure to the Magnetic Fields.  Being one of their best albums, I was given the best possible introduction.  It has been just over ten years since 69 Love Songs was released in all of its 3-disc glory and it still stands as one of the best albums of the past 15 years.
Stephin Merritt has expressed on multiple occasions that 69 Love Songs is not an album of actual love songs, but songs about love songs.  While this might sound a bit redundant, he makes (in a most existential way) meta-fictional societal observations that still prove relevant and inspiring to this day.  One of the best examples of this phenomenon is seen with "The Book of Love"; it is a solemn, nearly distraught explanation of the human understanding of this emotion we call 'love.'  "The book of love is long and boring" shows how uninspired these emotions can feel, while the actual expressed idea is surging with symbolism and underlying meaning.  In fact, this song speaks such volumes that it was covered by Peter Gabriel on his album of indie covers in 2010 and prior was used as the closing track to Scrubs in the spring of 2009.  One interesting subtlety to notice is the rather conservative use of electronic manipulation. While their earlier albums were somewhat characterized by synthesizers, 69 Love Songs only employs the technique on a handful of tracks.  Perhaps Merritt preferred a more analogical approach to this opus of satire, or maybe he was just tired of the effect.  When a synth is used, Merritt does so with swelling over-the-top jaunt.  On the opposite side of this coin of relativistic meaning, we have "Fido, Your Leash Is Too Long", the direct follow-up to "The Book of Love" and a song that epitomizes the modern-rock approach to a love song that isn't a ballad; make it underwhelming and somewhat unintelligible.  Of course, the satire of 'underwhelming' makes the song excellent in it's own right whilst still expressing the crudeness of the soft rock appeal of the 90s.  The meaning of "Fido" is, as aforementioned, somewhat unintelligible, as the traditional imagery of a leash in the romantic sense shows it being too short, as one partner keeps a tight hold on the other.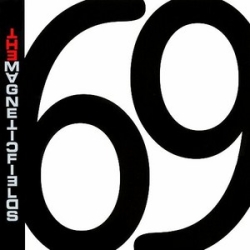 Disc two seems to revert to a simpler and more straightforward aesthetic.  The short "Very Funny" is lifted by classical strings and piano to heights nearly reaching ballad levels.  The presentation of a variety of genres is one of 69 Love Songs' most endearing elements.  While each song is irrefutably a work of the Magnetic Fields, they are all executed in unique ways.  Take the juxtaposition of "My Only Friend" and "Promises of Eternity"; the former a piano ensemble, the latter an electronic-assisted hyperbole about the time it takes to express one's feelings.  And how about "Washington D.C."?  This track alone proves how versatile this band can truly be.  A cheerleader chant opens the ethereal effort and gives way to one of the more pop-oriented melodies on any of the albums.  With lines like "It's my baby's kiss that keeps me coming back" allowing Claudia Gonson a freedom to just sing without pretense, instances like this are a pure delight.  "Papa Was a Rodeo" is another track that yanks at the listener's conscience. It is a pivotal song that expresses the chaotic nature of life on the road ("never stuck around long enough for a one night stand"), how it is perceived through the eyes of a child, and why it affects that child's life even into the fall of his life.  Recovering from a flurry of down-tempo melodies, "The Sun Goes Down and the World Goes Dancing" is upbeat and fun.  Like a gypsy jangle, Merritt sings at a higher octave to compliment the heightened mood.  Of course, the lyrical nature is still characteristically pessimistic, though it is difficult to not move your head and raise your heel to the melody while singing along.
The "lo-fi" label has been applied to indie music since the early '90s, but few songs have achieved a lo-fi/country feeling like "I'm Sorry I Love You", one of Gonson's ditties about a heart-worn lover who comes to grips with a broken relationship.  Additionally, the radio-reverb friendliness of "Wi' Nae Wee Bairn Ye'll Me Beget" shines through as a powerfully under-produced track that still manages to convey intense meaning.  My favorite song on all three albums from 69 Love Songs is "Yeah! Oh Yeah!", a song that literally attacks any love song ever written.  Without subtle imagery to act as a buffer, this track surges forth with the power of anti-love esteem.  "Are you out of love with me? Are you longing to be free? Do I drive you up a tree?/ Yeah! Oh Yeah!" is the opening line of this duet between Gonson and Merritt.  From there, it continues its descent into the already-dead (and now festering) relationship between lovers who have been out of love for so long, they no longer censor their feelings.  This track is meaningful in it's disparity.  The natural follow-up track is "Meaningless", a 50s doo-wop style track that imposes the meaningless of words of love… how they are only words and nothing more.
I could spend three full-length features outlining the nature of 69 Love Songs, one for each disc, and I still feel as though it would not be enough.  This career-defining album is full of metaphor, imagery, subtle meaning and stylistic progression more broadly than some bands achieve in their entire career (just look at Poison).  If you have heard this album before, play it for yourself again and remember why the Magnetic Fields are one of the best bands from this generation.  If you have not heard 69 Love Songs, I implore you to find time to really listen.  Do not play it while you are working, exercising, or playing a game.  Really listen to it and absorb the irony, the satire, and all the existential truths that exist below the surface.
——————————————————————————————
Magnetic Fields – The Luckiest Guy on the Lower East Side
[audio:http://mineorecords.com/mp3/mfie-luc.mp3]
——————————————————————————————
Magnetic Fields – My Sentimental Melody
[audio:http://mineorecords.com/mp3/mfie-mys.mp3]
——————————————————————————————
Magnetic Fields – Let's Pretend We're Bunny Rabbits
[audio:http://mineorecords.com/mp3/mfie-let.mp3]
——————————————————————————————
Magnetic Fields – It's a Crime
[audio:http://mineorecords.com/mp3/mfie-its.mp3]
——————————————————————————————
——————————————————————————————
Magnetic Fields – Yeah! Oh, Yeah!
[audio:http://mineorecords.com/mp3/mfie-yea.mp3]
——————————————————————————————
Magnetic Fields – Papa Was a Rodeo
[audio:http://mineorecords.com/mp3/mfie-pap.mp3]
——————————————————————————————