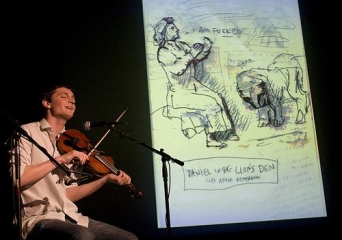 Sam Amidon, born Samuel Tear, has folk music heritage. His ancestors were involved in the upbringings of Appalachian folk, and it continues to serve as a familial passion with an inception that has no bearing on age. Amidon first picked up a fiddle at the age of three and has not looked back since, writing songs before he could properly spell and playing with the big boys before he could drink. Perhaps the most notable among his many collaborations is his work with Doveman, the main songwriting vehicle for longtime friend and collaborator Thomas Bartlett. In this project, Amidon would showcase his talents on guitar and banjo specifically. Considering that a bulk of Doveman's recordings are atmospheric and instrumental, his role was never conventional in the sense of contemporary folk music. Like old-time Appalachian folk, the music was rarely heralded by extraneous filler. If anything ever trumped the intricacy of the arrangements or thematic context, it was a strong narrative presence indebted to the lyrical prowess of the performer. Amidon would co-write a few songs for it, but at its heart Doveman showcased the presence of Bartlett (mainly because he sang and wrote all the songs). Amidon would never knock a listener down with awe-inspiring solos or precision, but it was difficult to ignore his additions. Bartlett clearly appreciated Amidon's genuine additions as well, making the role reversal of sorts today appear seamless to all parties.
Amidon has a few recordings out there dating back to the late '90s, but his first foray into a solo career did not come until 2007's But This Chicken Proved Falsehearted. This album and its follow-up less than year later, All Is Well, earned acclaim for its creative interpretation of traditional folk classics. Bartlett's work with Doveman was more fixated on atmospheric indie-rock and dream-pop, so Amidon's preference of traditional folk exemplified how great collaboration can occur even when the collaborators have differing stylistic preferences. Working chemistry has too many variables to define and predict, and this is a fine example of that. This is certainly presented well on Amidon's third full-length I See the Sign, where he has finally combined his fascination with both old-time Appalachian folk and contemporary indie-pop into a fusion worth boasting about. Amidon's familiarity with the former genre is practically a natural reflex by now, and this is how he expertly infused traditional folk into Bartlett's sound via Doveman. Guests like Bartlett, Beth Orton, and Eyvind Kang help Amidon complete his vision to fruition. The result, produced exceptionally by Valgeir Sigurdsson, is a continuation of the presentation of his previous two albums, except this time it sounds more refined and uniquely presented rather than serve as a collection of covers (regardless of how great they may be).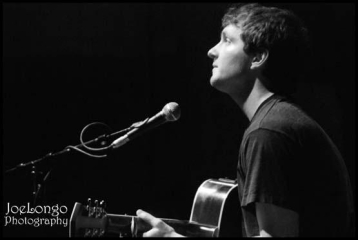 To truly grasp the accomplishment of I See the Sign, I encourage listeners to search for other performances of the album's songs. For instance, this YouTube clip of a gospel quartet singing "Oh, You Better Mind" has its own appeal and feel, and listening to a traditional song like that in its original form or with little modification prior to hearing its revision on I See the Sign will result in even deeper appreciation for Amidon's abilities. The intro ushers in a daunting guitar progression likely courtesy of Bartlett, which I say because of the riff's brooding and rock-oriented feel. With flourishes of strings that employ both fleeting chords and staccato, this and woodwinds are successful in adding vibrancy to an otherwise acoustic recording. Amidon's vocals, which compare immediately to the deep somberness of The National's Matt Berninger, are hardly flashy or elegant, but they work constantly. Orton's vocal additions on this track, "Way Go Lily", "Johanna the Row-di", and "Relief" provide the perfect dose of variation when Amidon's vocal style becomes too subdued for some, which is certainly a possibility concerning he relies more on instrumental power and lyrical delivery than alterations in vocal pitch or emotion. Call him old-fashioned, but when it comes to interpreting old folk classics to the point where contemporary listeners can call it inviting, there are few better than Amidon.
Nico Muhly's arrangements for the album's orchestral instruments (strings, woodwinds, bass) are also quite striking, particularly on the jumpy "How Come That Blood" where an electro-influenced bass line emerges to find convergence in the solace of string staccatos, plucks of acoustic guitar, and quick flourishes of strings. His additions, along with multi-instrumentalist Shahzad Ismaily, may be overlooked much like Amidon's work was with Doveman. The difference here though, is that Appalachian folk has been a genre long associated with spontaneous collaboration. Unlike rock and pop efforts that often employ collaboration for marketing effect, the additions here often feel essential and relevant to the extremely coherent vision at hand. From Orton's airy vocal accompaniments to Muhly's catchy bits of strings and woodwinds, everything on I See the Sign works. Amidon should be proud that he is keeping these folk classics alive to a younger audience with interpretations that are striking, relevant, and undeniably innovative despite staying true to their origins.
RIYL: Doveman, The Tallest Man on Earth, J. Tillman, Deer Tick, Horse Feathers, Timber Timbre, Bon Iver, Peter Broderick, Micah P. Hinson, Bonnie 'Prince' Billy, Chris Bathgate, Josh Ritter, Sun Kil Moon, American Music Club, Bruce Springsteen, Langhorne Slim
——————————————————————————————
——————————————————————————————
Sam Amidon – How Come That Blood

[audio:http://mineorecords.com/mp3/samami-how.mp3]
——————————————————————————————
Sam Amidon – Johanna the Row-di

[audio:http://mineorecords.com/mp3/samami-joh.mp3]
——————————————————————————————