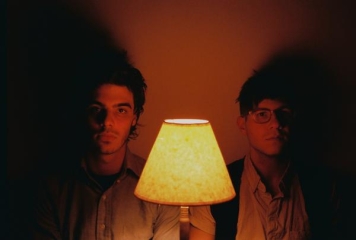 Forest Family Records, created by the brains behind Gorilla vs Bear and Weekly Tape Deck, tends to show a penchant for timely pop music. Their previous 7″, Go Outside by Cults, had most critics gushing over its exuberant blend of twee-pop and chilled-out electronica. Their most recent offering, Gauntlet Hair, associates that same vein of hazy electronica in their material, albeit with a more anthemic and boisterous approach. Their emphasis is also on post-rock and art-rock instead of twee-pop. These two bands sound nothing like one another, but they share the characteristic of stylistic relevance. Gauntlet Hair take the hypnotic sample-driven pop of a Neon Indian or Washed Out and substitutes many of their samples and synths for fluttering vocal accompaniments and blistering guitars, with Gauntlet Hair's adventurous songwriting sitting in a perfect place between experimentation and accessibility. This is where most of the Animal Collective comparisons are coming from, despite their techniques and actual styles differing. As they are an adventurous example of retaining innovation while attempting to write catchy songs, they are bound to get mentioned in a review of Gauntlet Hair. The label seems to pursue artists like these, and Gauntlet Hair may be their best pick-up yet.
At the very least in regard to production, Forest Family Records seems to be quite fond of artists that fit within the "chillwave" label, which also means they probably have to sort through lots of terrible stabs at the style courtesy of Apple GarageBand. Most self-respecting labels tend to stay away from automated material like that though, and in this label's case the more organic workings of Cults and especially Gauntlet Hair show this. Gauntlet Hair were complete unknowns before "I Was Thinking…" started taking blogs by storm in April. Essentially dripping in lucid atmosphere and eruptive hooks, its evolution from gently strummed guitar chords into a series of tremolo-based alterations finds many variations along the way. There is repetition present throughout, but the accomplishments on "I Was Thinking…" are more of an intricately evolutionary nature. With muted guitars on the left side of your speaker and a full-blown tonal burst of electric energy on the other, the contrast between restrained subtlety and anthemic chaos creates for some very exciting moments on this Colorado-based duo's debut. This song should be your first reason for checking Gauntlet Hair out.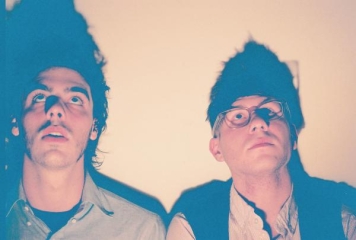 The vocals on its follow-up "Our Scenery" are frequently compressed behind a blur of guitars and click-clacking percussion, but the shouts of "hey!" at the beginning of each main verse and the duet-of-sorts occurring in the middle before the eerie guitar interlude shows just how subtly evolving the songs are. They remain steady under a repeating beat or melody that is enhanced just before it is about to wear thin. Gauntlet Hair's two songwriters (Andy R. and Craig Nice) seem to have something up their sleeves ever other verse or chorus. It does not matter whether this realization occurs during the final minute of "I Was Thinking…" in its escalating backing harmonics, or during the most breathtaking moment of "Our Scenery". This occurs right before the 3-minute mark, sparing little room for excess as they beautifully come down from left-over distortion and unbridled energy with swiftness and clarity. It is an oasis in a desert of wavering unpredictability, its caressing tone holding little in terms of intricacy but contributing significantly to the track's ebb and flow.
I am really looking forward to Gauntlet Hair's debut full-length, which they are currently working on, because they appear to be one of the few that recognize both the goods and evils of repetition. Unpredictability can be a great thing in music, and Gauntlet Hair keep their listeners on edge for just the right amount of time. When over-ambition begins to restrain a band and it becomes unpredictable to the point where cohesiveness and memorability are absent, there is nowhere left to go. I doubt Gauntlet Hair will face this dilemma anytime soon, since these songs show a young band with an extremely firm grasp of their listeners' desires, which is to have their ass kicked by great music that flows with grace but packs the unpredictable punch of avant-garde's best. This duo have walked this fine line quite impressively early in the early goings, earning the rapidly growing spotlight that has shone on them this past month.
RIYL: Best Coast, Memoryhouse, Beach Fossils, Small Black, Male Bonding, Washed Out, Neon Indian, Explosions in the Sky, Brian Eno, Dum Dum Girls, Real Estate, Julian Lynch, Sleigh Bells, Titus Andronicus
——————————————————————————————
Gauntlet Hair – I Was Thinking…

[audio:http://mineorecords.com/mp3/gaunt-iwa.mp3]
——————————————————————————————
——————————————————————————————
——————————————————————————————