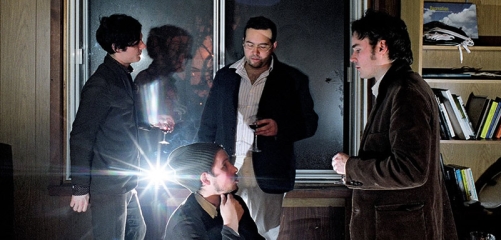 Some things bear worth repeating. Feu Thérèse is one of them, as I feel exposing their music right now would be dramatically more effective than it was in 2007, when I found myself gushing over their debut, Ça Va Cogner. They had apparently split that same year, but their permanent elusiveness had prevented anyone from truly knowing. A quick blog post was the only mention online of their last show in June, lamenting their fate after one final remarkable performance. Perhaps some ignited new interest will bring them back?
The reason I feel Feu Thérèse would be given more attention in 2010 is their stylistic preference, which is very much in the vein of the "chillwave" and "dream-pop" movement that record labels like Mexican Summer, Carpark, and Paw Tracks have embraced for years. Even majors like EMI are jumping into the chillwave spectrum with artists like Miami Horror, whose recently leaked "Holidays" (feat. Neon Indian's Alan Palomo) should be making huge waves of its own soon. That track specifically, with its feel-good guitar/key combo recalling Jamie Lidell's soul-pop hybrid, is one example of how the utilization of '60s/'70s soul samples is a trademark of the genre. From Washed Out to Neon Indian, their reliance on such samples is attributed to the soul genre's seamless incorporation into elements of electronica. Even before the lush, vibrating soundscapes of chillwave, dance and R&B artists were accustomed to soul's post-peak resourcefulness.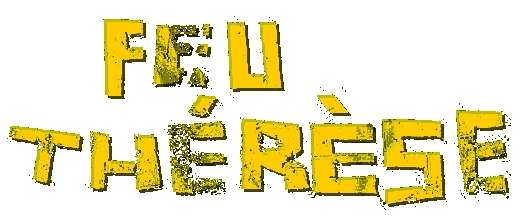 Feu Thérèse are the farthest thing from sample-heavy. Their veneration for the past is shown through more organic methods of post-punk and dubstep, which consequently sound darker and somber than the recent infusion of funk, soul, and doo-wop hybrids. Their music is more appropriate for dark and dusty basements, as opposed to the club-ready feel of today's latest successes. So, if you wonder why I think they would find more success now, then simply listen to a track like "Nada". It could easily be considered minimalism, with a repeating synth that does little more than languidly sway with the listener and a single snare. But when the structure packs more variation than one would expect and the chorus' scat-like vocals extend from interwoven duality to a beautiful mix of screeching guitars and translucent key tremolos, it becomes heavily apparent that it aligns with and exceeds what today's listeners are expecting from a post-punk/electronic hybrid.
Ça Va Cogner has grown remarkably well throughout the years, which makes it a shame that Feu Thérèse is no more. Frontman Jonathan Parant's past work in Fly Pan Am is notable, but quite different in terms of scope. Their songs resemble a vein more akin to Mogwai or EITS; experimental 9-minute post-rock is what you would find, with their third studio album N'écoutez pas being the best. Fly Pan Am remain excellent, but it was never as uniquely infectious as Feu Thérèse. The sheer build-up in "Le bruit du pollen la nuit" definitely takes some of that developmental post-rock feel, but the ideas here flow so freely in a more concise vein than Fly Pan Am. Especially the way they implement vocalist Stephen de Oliveira's variation between deep-tone spoken-word and intensified falsetto… it is melodically remarkable. Just do me a favor and check out Ça Va Cogner. These underrated talents deserve any attention possible.
RIYL: Fly Pan Am, Kraftwerk, Malajube, Ariel Pink's Haunted Graffiti, Hangedup, HRSTA, Esmerine, Polmo Polpo, Mogwai, Black Ox Orkestar, Set Fire to Flames, A Silver Mt. Zion, Valley of the Giants, The Dead Science, Do Make Say Think, Carla Bozulich, Labradford, Tarentel, The For Carnation, Vic Chesnutt, Pan•American
——————————————————————————————
——————————————————————————————
Feu Thérèse – Le bruit du pollen la nuit

[audio:http://mineorecords.com/mp3/feuthe-leb.mp3]
——————————————————————————————
Feu Thérèse – La nuit est une femme

——————————————————————————————
——————————————————————————————
Fly Pan Am – Pas à Pas Step Until
——————————————————————————————