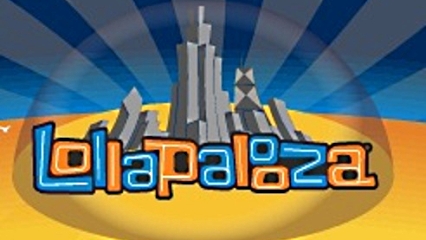 by Taylor DeBoer
With 240,000 people, 130 bands, and 110 acres of the beautiful Grant Park, Lollapalooza's 19th year as a festival was an overwhelming success for the Austin-based promoters C3. Perry Ferrell's traveling festival is a distant afterthought. Instead, we've become accustomed to the three-day event and are finally getting used to it as a mainstay Chicago event every August.
It's become evident that America really has three main festivals: Coachella in Palm Springs, California; Bonnaroo in Manchester, Tennessee; and Lollapalooza in Chicago. Considering the substantial distance between Maryland, Chicago and Manchester, the lineups are often the most influential in the decision-making process. I couldn't resist a headlining indie lineup of The Strokes, Phoenix, and Arcade Fire. And although those three acts were probably the highlights of the show, there were several other bands that really brought their game to music's biggest stage.
Of many memorable performances, a few really stuck out in my mind:
Day One:
The Walkmen: Playing an early 1PM set following up-and-coming rapper, B.o.B., was certainly not an easy task for this New York rock band, especially since their sound was out for the first two minutes. With smiling faces, Hamilton Leithauser and company embraced the adversity and laid down a flawless set of ambient but gruff rock tunes spanning across their 5 studio albums (including Lisbon, which drops next month). The highlight was when they played their breakout song, "The Rat" from 2004's Bows + Arrows. Leithauser's bellow lofted over the sweaty crowd of eager fans. MP3: Rue the Day (live)
The Black Keys: If you're into obscure indie rock or experimental music, The Black Keys are not for you. If you like retro blues-rock, then they're right up your alley. Not a stellar lyricist but one of the best guitarists I've ever seen live, Dan Auerbach is quite the performer. Auerbach's partner in crime, drummer/producer Patrick Carney is nothing to sneeze at either. It was an ideal show to lead into The Strokes. MP3: Strange Times
The Strokes: For upper twenty-somethings whose musical taste evolved from The Cars and Guided By Voices into The Strokes and The White Stripes in the early 21st century, this was clearly the weekend's highlight. One festival-goer even said to me right before The Strokes came on, "I'm going to find my wife in this crowd, right up front." The show was not as tight as three years ago but it was more nostalgic. In the midst of various solo projects and a very mysterious album that is allegedly coming out in March, thousands of fans packed around the stage of Friday had a weird feeling that window to see one of this decade's most influential bands is closing fast. I'd say the crowd got what they were seeking for and deserved from Casablancas and crew. MP3: Someday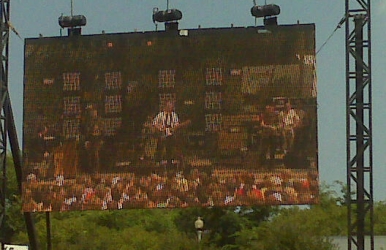 Day Two:
Spoon: The tenured indie band from Austin, Texas proved on Saturday why they've been around for so long and why they had such a large crowd of people, ranging in age from 15 to 50. Brit Daniel is a captivating veteran front man whose gruff but bouncing voice sounds as good live as it does on their albums. MP3: You Got Yr. Cherry Bomb
Edward Sharpe and the Magnetic Zeros: The gang of hippies started by the alter-ego of a newly-sober Alex Ebert is a retro shock back to '70. Starting in LA and working their way around the country, the show in Grant Park was euphoric. The highlight was when Ebert climbed down into the crowd, sat on the grass, and sang the beautiful ballad, "Brothers". MP3: Home
Phoenix: Thomas Mars and crew have gone from the indie pop underground in France to the kings of indie music in America since their 2009 release of Wolfgang Amadeus Phoenix. Their unique blend of new-wave indie-rock and dance-pop made for one of the best performances from Lollapalooza. Closing the show with the upbeat and catchy "1901" was certainly among the highlights, which included a crowd surf by Mars. Phoenix may have yet to reach their full potential, so hopefully we'll hear even more from them in the coming years. MP3: Lasso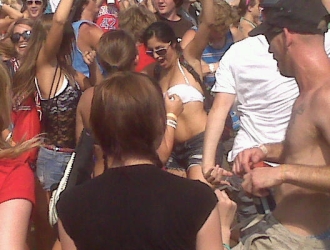 Day Three:
Blitzen Trapper: Imagine The Band, Neil Young, Led Zeppelin, Bob Dylan, The Beatles, Jackson Browne, and Pavement all wrapped into one. The up-and-coming Portland band, Blitzen Trapper, are all over their place with their musical style, drawing from various folk and rock styles across the board. MP3: Dragon's Song
Yeasayer: Wow. This band is a cross between cheesy art-pop and afro-electric. They're Animal Collective meets The Cars and they're catchy as hell. The musical swells of "Tight Rope", "Madder Red", and of course "Ambling Alp" are infectious live. MP3: Ambling Alp /// Review of Odd Blood
Arcade Fire: Not only the best performances of the weekend, but one of the best of the summer. Arcade Fire is a live band. Their albums are understood completely only after seeing them live. The way they switch instruments for nearly every song creates a captivating environment that keeps your eyes fixated on the stage for the entire set. Not to mention, their backdrops and slideshows are as mesmerizing as they are bizarre. If you haven't seen them, go see them right now. They're only getting bigger. MP3: Rococo /// Review of The Suburbs
Next year is Lollapalooza's 20th anniversary. Can it get any better?
Photos courtesy of Max Fishkin.