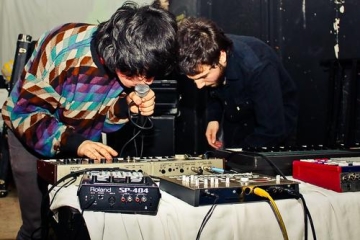 Ace is the "wild guy in the group" who likes doing mad trickz on his bike, while "AZN Thunda" AKA Brett has a "hard exterior but a soft inside, just like mochi (being from Asia of course)". This is the bio provided of Teengirl Fantasy – actually consisting of Oberlin College students Nick Weiss and Logan Takahashi – on their web site, which is a knock on old Angelfire designs from the '90s, complete with hundreds of simultaneous GIF images and custom backgrounds. It seems ironic in two ways: that its fictitious 13-year-old webmaster shares her teengirl fantasies (that is, meeting Teengirl Fantasy), and that the duo's sound is incredibly polished, quite the opposite of a '90s web page. Polished enough to showcase the duo's excellent production, which has recently increased their level of recognition among other musicians looking for some quality production.
Teengirl Fantasy's appearance on Das Racist's new and heralded mix tape, Sit Down, Man, will probably grab a few more fans for both duos. It is one of many standouts on an album that I imagine will grow in popularity over the next few months. The popularity is because of their polarizing effect, since some hip-hop fans view their music as a parody of the genre. I don't know about that, but parodies do not sound this good. I, for one, disliked their previous material but love Sit Down, Man. Teengirl Fantasy's production in "Commercial", the sixth track on the release, combines an ingeniously commercial-like hook (surprise) with their form of chillwave/electronica, which variates from blissed-out serenity to high-throttle dance depending on the effort. It never quite is restrained entirely to one of those though. This one is more in the laid-back vein, with the topic actually poking fun at those who prematurely criticize anything "commercial". The choice of production fits this emphasis with perfection, especially with Das Racist employing their vocals with smoothness and precision associated with songs of the mainstream stereotype. Well, except this is actually good. This collaboration is just a peek into Teengirl Fantasy's unique world though, which seems strange enough that an enthusiastic 13-year-old could describe the sensation their music provides better than an esteemed music critic.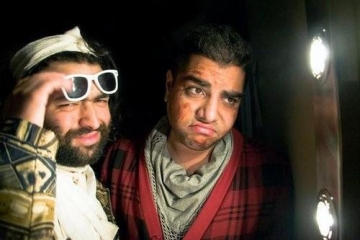 Teengirl Fantasy's new album, 7AM, was released earlier this month. While it is certainly a worthwhile release, my interest in the duo still peaks when I put on CD-R, their aptly titled release from 2009. With favorites like "Azz Klapz", "Hoop Dreams", and "Now That's What I Call vol. 2", it is arguably the best entry point to Teengirl Fantasy's material, even with 7AM already out. Their expertise, which they describe well as a love for 4/4 time, warm-sounding synths, and concisely infectious soul/R&B loops, is performed at its optimum on CD-R. "Hoop Dreams" is one of the examples of what Teengirl Fantasy does best, which is either slowing or speeding up the tempo of pre-existing tracks, adding their own accompaniments, and going crazy from there. Weiss first brought attention to the group nearly two years ago with a slowed-down version of Mariah Carey's "Touch My Body", and since then the group has showed incredible chops in regard to the manipulation of sound and time. Well, by 'time' I mean tempo, but the original phrase sounds cooler.
"Hoop Dreams" is essentially a modified version of "Egyptian Shumba" by The Tammys, an underground favorite from the early '60s. That song failed to receive much airplay because it was ahead of its time, which you can hear in the original. Teengirl Fantasy show off their production chops by turning it into an all-out dance fest. They make the vocals sound like a possessed version of Deerhoof's Satomi Matsuzaki or Love Is All's Josephine Olausson, and turn the lead organ line into a steady melodic leader over bubbly synths and distorted percussion. I imagine anyone who is old enough to have heard the original when it came out would detest this, calling it too loud and disorganized for their tastes. Teengirl Fantasy are latching onto a recent movement though, and their creativity within it is nothing to be ashamed of. Sure, they may not have created the backbone of this particular track and others executed in a similar vein, but their specific talents are more evident than ever here. It is also an excellent inclusion on a running mix. Mostly all of their music is.
RIYL: Kraftwerk, Malajube, Ariel Pink's Haunted Graffiti, Hangedup, HRSTA, Esmerine, Polmo Polpo, Mogwai, Black Ox Orkestar, Set Fire to Flames, A Silver Mt. Zion, Valley of the Giants, The Dead Science, Do Make Say Think, Carla Bozulich, Labradford, Tarentel, The For Carnation, Vic Chesnutt, Pan•American
Teengirl Fanasy-Hoop Dreams by Check Yo Ponytail
Teengirl Fantasy – Cheaters (from their new album, 7AM)

Das Racist – Commercial (produced by Teengirl Fantasy)
Das Racist – Amazing (featuring Lakutis) (produced by Keepaway)