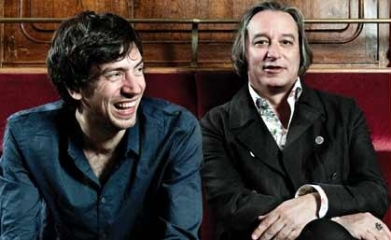 Tired Pony are certainly a supergroup, even if its members are somewhat unforeseen. I never expected Snow Patrol's singer, R.E.M.'s guitarist, and Belle & Sebastian's drummer to even collaborate on a song. Even if they got along well, meshing R.E.M.'s primitive alt-rock with Snow Patrol's fluttering radio-friendly pop does not sound like a guaranteed success. Longtime fans of Snow Patrol may disagree though. Those familiar with "Chasing Cars", Run", and nothing else likely underestimate the songwriting talents of frontman Gary Lightbody, who has proven throughout the group's half-dozen albums that he is an expert of mood-based anthems. His sonorously deep voice glides seamlessly with the approach, and the band's worldwide success is hardly surprising as a result. However, with such tactful vocal performances, polished production, and glistening instrumentation, it can be difficult to regard Lightbody's talents as a songwriter. Snow Patrol's anthemic style of indie-rock can understandably take full stage on most of their tracks, but on Tired Pony's debut album The Place We Ran From he presents a style barren enough – at least compared to Snow Patrol's majestic tendencies – to expose his songwriting fully and appropriately.
Lightbody formed Tired Pony out of his enduring love for country music. Odd, I know, but the material on The Place We Ran From is not exactly what you would see on CMT. The music is spacious yet pulsating with emotion, as a song like "Get on the Road" could tell you. Lightbody's duet with an effective Zooey Deschanel expands from chugging relaxer of acoustic strums, keys, and an accordion-like lull into a raucous anthem supplanted by Belle & Sebastian drummer Richard Colburn. If you doubt whether Lightbody can produce a song with genuine emotion, snarling guitar chords, and raucous percussion, then listen to this. Even for Snow Patrol fans, songs like this and "Northwestern Skies" – which utilizes that same acoustic/keys/accordion feel – shows a new side of Lightbody that sounds more sentimental, reserved, and retrospective.
Along with Lightbody, Colburn, and longtime Snow Patrol collaborator Iain Archer are a few familiar names. Scott McCaughey is best known for fronting The Minus 5, which also features R.E.M. guitarist Peter Buck. The Place We Ran From's producer, Jacknife Lee, also has ties with R.E.M. and Snow Patrol , producing R.E.M.'s excellent return-to-form 2008 release Accelerate and Snow Patrol's breakout album Final Straw in 2003. The presence of McCaughey and Lee likely made it easy for Buck to join Tired Pony, as working with new musicians is that much easier when you have familiar co-hordes there. Their presence within Lightbody's arena-ready style of indie-rock is felt, even if Lightbody's company is the most prevalent. The wide array of stars on The Place We Ran From makes for a surprisingly cohesive listening experience, which is a rare feat for supposed supergroups. The frontman for Tired Pony is evident, but the way Lightbody utilizes his talented cast on gems like "Dead American Writers" – which features Buck's trademark jangle better than anything else – and "Point Me at Lost Islands" makes their star-studded status warranted.
To celebrate this impressive debut, MOG Music Network has teamed up with Obscure Sound to offer up an autographed guitar from Tired Pony. Winners will receive a Classic Series '72 Telecaster® Deluxe, a beauty you can take a peek at here.
To enter, simply enter a comment below answering the following question: If you could assemble any supergroup, who would comprise it and why? Winners will be selected and move into the second and final pool, where MOG Music Network will choose the best answer. Submissions will close Tuesday at midnight. Best of luck!
SUBMISSIONS FOR THIS CONTEST ARE CLOSED. CONGRATULATIONS TO SPENCER FROM LIVE4EVER FOR WINNING! FOR ALL THOSE THAT LOST, DON'T FRET. THERE WILL BE PLENTY OF SIMILAR OPPORTUNITIES IN THE FUTURE!
Tired Pony – Dead American Writers
Tired Pony – Point Me at Lost Islands
Official Site / MySpace / BUY
side note: the actor in the above video is Joseph Gilgun, one of many outstanding actors in This Is England; it is an amazing film everyone should check out, along with its subsequent TV series This Is England '86.