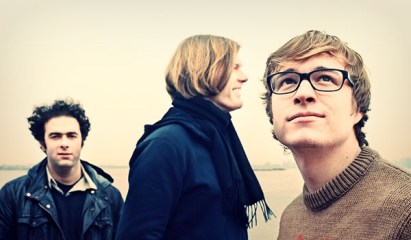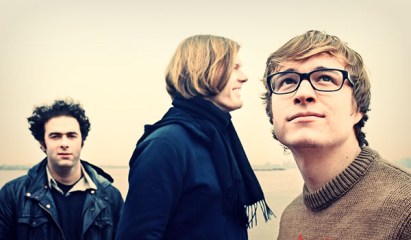 Soft Landing remain somewhat elusive, but the members' experiences are never in question. Frontman Paul Collins is part of the traveling circus that is Beirut. And so is Perrin Cloutier, who Collins recruited just as Soft Landing passed its preliminary stage. Mike Lawless, Collins' friend from college, later rounded out the trio as they began recording their debut full-length in Chicago with Icy Demons' frontman Griffin Rodriguez. The self-titled release predictably found a home with Ba Da Bing Records, the label to bands like Beirut and Shearwater. Soft Landing was released last fall but just recently found its share of press. The trio possesses the same angular approach to rock, folk, and pop that frequent collaborator Zach Condon does, but Soft Landing implement their diverse showing of styles – from tropicalia and mariachi-driven chillwave to twangy folk and rhythmically combustible pop anthems – more succinctly than Condon. The result is not as grandiose or individualized as Beirut, but with greater stylistic prowess and arguably more percussive involvement.
While Condon plays with enjoyably rigid sentiments of Balkan folk and unconventional fusions of electronica, Soft Landing is a breezier and more accessible interpretation of freak-folk, electronica, and art-rock. The world influences are not as striking – like Condon's Balkan folk – but Soft Landing provide plenty of international flair mainly pertaining to South American and African folk/pop. "Papaya" shows this off well with the exotic woodwind-like synths and fast acoustic arpeggios. One can envision a blue-sky atmosphere, mainly on account of the handclap-percussion and vibrant guitars resembling both an Irish jig and tribal dance. Collins has a voice most comparable to The Veils' Finn Andrews in a half-nasally half-anthemic croon that fits well, particularly for this fun track.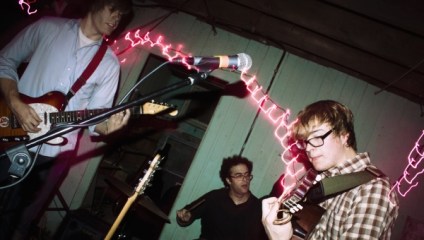 "Mic Check" boasts a little electro bass gargle and quick strums of a ukulele. During its build-up, Collins' gradually raises the pitch of his voice until the falsetto signals a fury of percussion, which is mastered subtly in its panning but still unavoidable considering its incredible workmanship within the track. "Mic Check" is constant and somewhat repetitive, but the subtleties inherent in Collins' vocal usage and percussive involvement prevent even the slightest moment of predictability. The stampede of percussion and revolving synth licks create an infectious quality rarely found in driven works like these and Soft Landing should be commended for it. They are able to manipulate a flimsy synth sound into the capabilities of a retro-friendly organ, and these bursts bring along sentiments of psychedelia and classic-rock that fit seamlessly into Soft Landing's creative presentations of freak-folk and Balearic-influenced electronica.
A guitar arpeggio and more intensified synth-organs than before propel "Live with Birds" into yet another memorable effort. Big bass drums dominate shortly thereafter, with a poppy synth line only to designed to tease. The initial vocal introduction is complemented by only an acoustic guitar, and this bass drum/synth collaboration reveals itself as a killer hook once it appears again, now laced beautifully under Collins' soaring vocals. XTC, David Bowie, and Deer Tick are just a few comparisons that come to mind. "Pendleton Woolen" has a type of lush delicacy that the band should pursue more. An acoustic track for the most part, a little bass shuffle enters concurrently with Collins' voice. "All my kisses turned to ash," he sings at one point. "I wish I could control the beats of my heart." This is one of the more aptly emotional tracks on the album, and more developments like these should result in heavy exposure for this promising trio.
RIYL: Beirut, Au, XTC, David Bowie, Deer Tick, Rita Lee, Os Mutantes, Devendra Banhart, Fanfarlo, Andrew Bird
Soft Landing – Pendleton Woolen