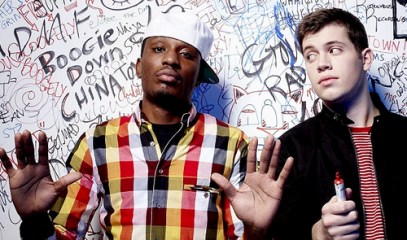 Alternative hip-hop has blurred the lines between genres since the late 80's. Recently, up-and-coming hip-hop artists like Hoodie Allen and Das Racist have kept this tradition alive by sampling popular indie anthems like the Black Keys' "Tighten Up" and trading prototypical bass lines for synth and pop-inspired melodies. One group who has exemplified alternative hip-hop greatly is Chiddy Bang. The band, who gained internet fame when music blog Pretty Much Amazing featured songs from their MySpace, is composed of rapper Chidera "Chiddy" Anamege and Noah "Xaphoon Jones" Beresin. By sampling key-based artists like Sufjan Stevens, Ellie Goulding, and MGMT, the duo have won over the music scene by finding a unique way to capture universal appeal. Their newest EP The Preview was released in October and continues to generate substantial buzz.
Obscure Sound: "Chiddy Bang." What's the background behind the name?
Noah "Xaphoon Jones" Beresin: It's what Chiddy has called all of his side projects since day one. At the time, we were moving so fast and writing songs so quickly, we just picked it as a name and moved on.
When did you and "Chiddy" meet?
Our freshman year of college at Drexel University. So, the end of 2008.
Where are you based?
Currently, Chiddy is based in Stroudsburg, PA, and I am based in Philadelphia.
Starting out, did you see Chiddy Bang as more so recreation, or were you initially aiming for real fame and success?
It was mostly just fun and recreation, but as soon as I realized I might be able to use it to avoid going to college, it was full speed ahead.
You guys sample a lot of indie pop; MGMT, Passion Pit, Hot Chip etc. Do you both generally listen to that sort of music?
I do. Chiddy mostly stays on the hip-hop tip, but every once and a while I'll convert him and he'll become a fan of something.
What is the writing process like?
There's a lot of variation, but for the most part I make a beat, email it to Chiddy, he writes to it, and then we finalize the song together in the studio.
How much room do you allow for the raps to develop when your in the recording process?
It's totally up to Chiddy, but once the rough stuff is laid down, we usually bounce different ideas off each other until a compromise is reached.
Who or what do you find inspires your music?
I'm inspired by lots of OG artists, particularly Joe Strummer and J. Dilla.
What do you find yourself doing when you're not making music?
Hanging out with my roommates, walking our dog, cooking.
Last summer you played Lollapalooza, which I'm assuming was a big deal for Chiddy Bang. Can you tell me what the experience was like, along with any other memorable show experiences?
We'd done festivals before, but this was our first American one, and we didn't know what the reception would be like. I'm rarely nervous before shows, but I must admit I was very much so at Lollapalooza. However, the reception was amazing and the crowd reaction was nuts. Our first festival was Glastonbury, and that was even wilder. We were supposed to be there for a day and ended up staying for like four days. Trying to recall details makes me dizzy. Amazingly fun though.
How have you been managing the fame?
I'm just the man in the background, and I like to keep it that way. I will say, I try to keep it real by not moving to New York or LA. Philly all day and tomorrow.
Even though you're a fairly new band, you've certainly caught the attention of the music scene, including the many people who will read this interview. Anything you want to say to your fans?
Fans – we love you. Keep listening, bootlegging, whatever. And to you college kids – if you feel strongly about it, don't be afraid to drop out. Kidding… kind of.
RIYL: Das Racist, Hoodie Allen, B.o.B, XV, Kid Cudi, Mike Posner, Bullion, Donnis, Wale, J. Cole, Wiz Khalifa, The White Panda
Chiddy Bang – Truth (feat. Passion Pit)
Chiddy Bang – Opposite Of Adults
Chiddy Bang – Bad Day (feat. Darwin Deez)
Official Site / MySpace / BUY