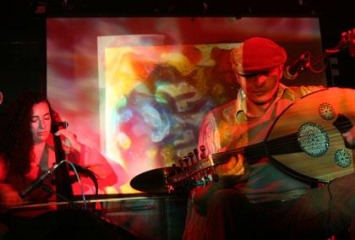 Sometimes, the story of a good band can be told through the variety and blend of their influences. Put a new spin on something old, or make fire from a pile of old sawdust. Creating something original is often described as the holy grail for aspiring new bands, and this mantra is most certainly the inscription on the Brickwork Lizards' declaration.
Hailing from Oxford, the Brickwork Lizards came to London for an intimate and lively show at The Comedy Pub, tucked in between Leicester Square and Piccadilly Circus and just up the road from The Comedy Store (confusing? after four beers I certainly thought so). Anyway, intoxicated navigational issues aside, I managed to find the venue successfully, and was excited to see that the band had squeezed an audaciously wide variety of instruments onto a deceptively small stage. It consisted of an electric guitar, an electric cello (I thought they looked stupid too, but trust me it works), a djembe drum, a full drum kit, bass, banjo and – played by frontman Tarik Beshir – an Oud. Now, you may not recognize the name of this Arabic lute-style instrument, but you will definitely recognize its unique and familiar sound, which transports you instantly into the arid desert of the Middle East. When coupled with Beshir's ethereal, muezzin-style vocals, it gives a taste of something contrary to the standard, acoustic guitar-toting singer/songwriters we have seen a million times before.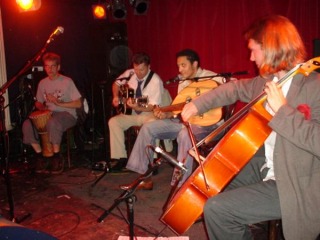 And the broad range of influences doesn't end there. While listening to the Lizards, my girlfriend and I thought we'd have a game of "list the influences" whereby we'd count on our fingers how many different styles of music we could hear coming from this one band. We gave up when I'd run out of fingers and thumbs (and, possibly, decided it might be time for another trip to the bar). There are elements of blues, jazz, skiffle, rock, classical, folk, country and swing with African percussive styles and, of course, the floating Arabian melodies of Beshir. Add on top of this the outgoing and comedic rapping of MC Tomohawk, and you can see that Brickwork Lizards are most certainly eclectic in their influences but, crucially, they are blending them together in a fresh and innovative direction.
I didn't leave the venue with any particular song rattling round my head, as there was such variety that picking out a distinctive and catchy melody became that much more difficult. Impressed as I was with their variety and musicianship, I still struggled to pick my favourite song. Perhaps then, this band may grow in stature after a few listens, but despite fantastic innovation and musicianship, no song stood out as obvious single material.
No laughing-all-the-way-to-the-bank smash hits then, but a fantastic, interesting and genuinely original band nonetheless.
Brickwork Lizards – Live at Cirque Subite
Brickwork Lizards – Pink Panther Variant (live)