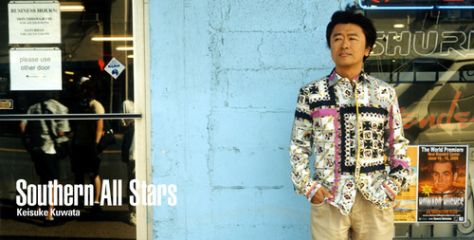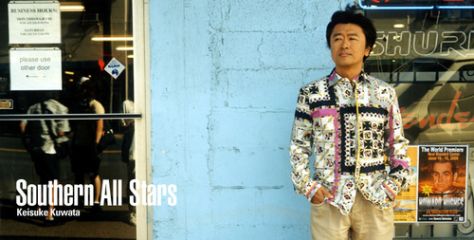 The most popular act of all-time (in a certain country) does not really coincide with what this site usually features, but Southern All Stars remains overlooked by western audiences regardless. The exposure here seems useful in that sense. After listening to their top songs, any fan of quality pop music would agree.
The group's frontman and songwriter, Keisuke Kuwata, is Japan's version of Brian Wilson. He is unmatched in terms of pop songwriting in both its specific geographical influence and the ceaseless degree of success he has attained throughout the decades. Love songs are his forte, but a bizarre sense of humor is never hidden away. Despite frequently incorporating English phrases into his lyrics, Kuwata's success in the west has been limited to those already familiar with the Japanese music scene. The rich musical tradition of the west has provided its fans with a plethora of quality material and stylistic trends, so most are reluctant to expand their horizons; the food on their plates is already perceived as too much. Despite this, Kuwata and Southern All Stars are consistently ranked as the best-selling artist in Japan of all-time.
In addition to Ryuichi Sakamoto, Kuwata has been utterly essential in converging eastern and western musical intellects. They are substantial reasons for Japan's thriving music scene today. The contemporary Japanese music scene is as stylistically rich as any country. But in the '60s and '70s, when Japan had a reputation for being a decade behind musically, a handful of names including Kuwata were responsible for infusing genius and creativity into their material to discourage replication and encourage innovation. They didn't ignore influence altogether though; they embraced it as a function of their sounds. Kuwata and Sakamoto's reverence for western styles of music added an accessible nature to their works, even as they were creating something largely unique (and – between the two of them – on separate stylistic grounds). Essentially, like most architects of new musical movements, elements of past tides or different cultures were molded into something completely different. Yet, the influence of something beloved and treasured was never hidden. It was always there, contributing just as much as the singular creative process.
I have been meaning to do a feature on Kuwata for some time. I kept putting it off because newer, more accessible groups (for this site's predominantly western audience) were prevalent. But now that summer is approaching, Southern All Stars' sparkling pop seems appropriate. It goes beyond obvious "the Japanese equivalent of the Beach Boys" comparison though. Kuwata's songwriting is also influenced by American folk legends like Dylan and the Allman Brothers, even showcasing a southern-rock twang on several of his songs. Like his folk-minded influences, Kuwata also incorporates blues on a frequent basis. Add to the mix an occasional dash of surf-rock, R&B, and electronic pop – with a flurry of traditional Japanese styles – and you have Kuwata, whose various hybrids of pop music appear limitless. Southern All Stars even ventured into typical '80s key-aided pop with success, maintaining the lovably cheesy stereotypes of '80s pop by continuing to allow Kuwata's gorgeous hooks to breathe. The comparisons are not absent either; "You" nearly resembles Squeeze classics like "King George Street", one of many applicable comparisons to emotive late '70s/early '80s pop acts. Enjoyably, you'll find fun associations like that scattered throughout his discography.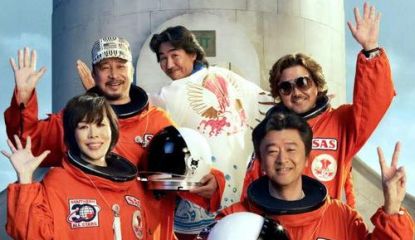 A musical chameleon, Kuwata has adapted to the trends of each decade – from Southern All Stars' 1975 beginnings to their activities today. On each of his songs, though, remains Kuwata's handprint. It's like how the greatest pop composers of all-time have imprinted their songs, no matter how conventional sounding, with unmistakable and inimitable trademarks. In a sense, his songs sound the same as they did when he first started in the early '70s, even with recent stylistic infusions. A Kuwata hook is still unmistakable to fans worldwide. The classic "Itoshi no Ellie" is a good example, specifically where Kuwata and wife/longtime musical partner Yuko Hara ease into a gorgeous, duet-soaked chorus. Or perhaps "Natsu wo Akiramete" is a better choice, with its emotive brass and strings aiding one of Kuwata's greatest vocal performances. Regardless, there's no use in me compiling a greatest hits when there's already an excellent one available…
Since diving into Kuwata's discography is daunting, an easy place to start is Southern All Stars' greatest hits compilation, Umi no Yeah!! This is a generally comprehensive representation of Kuwata's talents as a songwriter. Since its 1998 release, they have released several songs that could have made the cut, like "Tsunami" and "I Am Your Singer". But these few recent gems aside, Umi no Yeah!! contains most of the essentials. These are essentials that were covered by the likes of Eric Clapton and Ray Charles, and some that served as examples of pop music that influenced an entire generation of Japanese musicians and inspired others worldwide. Even if Japanese pop – or even foreign pop for that matter – isn't your thing, I strongly recommend giving Southern All Stars a shot. If you enjoy pop heroes like Wilson, McCartney, and other household influences, then hearing a musician who is revered similarly in Japan should be a learning experience – at the very least.
Southern All Stars – Itoshi no Ellie
Southern All Stars – Natsu wo Akiramete

Southern All Stars – Love Affair