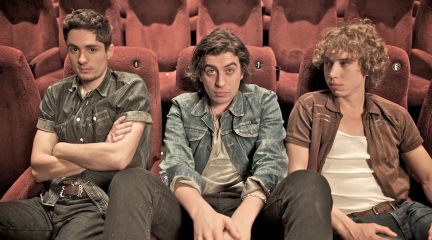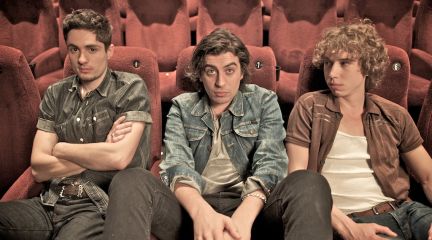 Being billed as the UK's answer to Kings of Leon immediately lumps a rather large weight on the shoulders of London trio Them Changes. But nevertheless, that seems to be the word about town.
Not bad for an act that started its life as Michael Kiwanuka's backing band. They eventually decided to form their own group last year, and now they're being managed by Steve Whiteley (formerly of ATC Management). Their debut single "Lie to Me" features catchy, wailing vocals with huge guitar riffs and vocal harmonies – catchy enough for commercial appeal without alienating their already growing 'Camden crowd' fan base.
The trio have managed to nudge their way into a scene which is crowded with gimmicky indie outfits, and they have done so partially through their new single release. Another reason is  their open-to-fans party "Hooligan Soup", which they host once a month at The Wheelbarrow in Camden. Them Changes select the support acts for the night. With packed crowds flocking to the venue, it seems to be working. The live shows are very impressive – the kind of gigs that involve people leaping from big speakers and jumping ten feet into the air to get the crowd moving.
It was at this night that the boys met Jack White, who has since reportedly kept in touch with them since after listening to their set. The video which accompanies "Lie to Me" is conceptually daring. Firstly because it's a montage of historical liars, including clips of Tony Blair talking at the Chilcot Inquiry into the Iraq War and clips from Springer and The Jeremy Kyle show. But also because it doesn't actually feature the band themselves, despite being their first real introduction to the national scene. Allow their exposure's chance to sit with quality blackjack games.

With several further releases planned before the end of the year, we may see a little less mystery from the trio. Until then, Them Changes are encouraging people to confess to their biggest lies, giving away a free exclusive track to the winner of whoever has the biggest and best lie (entered in the comments section beneath their new "Lie to Me" video on YouTube).
Editor's note: They describe themselves as a "psychedelic space-punk power trio" but are much more accessible than that. Them Changes are a straightforwardly infectious recollection of '90s British alternative, particularly of the more radio-friendly groups that pursued both intellectual Brit-pop and radio-access alt-rock. Their youthful energy and readily available hooks make them poised for success in the UK and potentially overseas, though chances are at this point  they remain a distinctively British success story. This is simply because many of their influences were just that. Nothing wrong with that though.
RIYL: The Verve Pipe, Arctic Monkeys, The Kooks, Collective Soul, Dog's Eye View, Milburn, Seven Mary Three, The Fratellis, Tonic, The Little Flames, Klaxons, Supergrass, Toad the Wet Sprocket, Kasabian, Gin Blossoms, Fastball
Official Site / MySpace / BUY