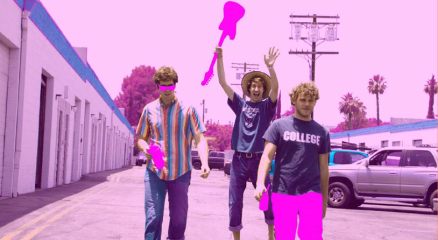 A jovial summer breeze comes quickly and unexpectedly, catching bystanders off-guard before they hastily yearn for more. If only this antidote for endless humidity was available at the snap of a finger. Technology does not permit climactic changes via an audible interface, but Warm Weather's EP Dances is the closest you'll come to audibly reliving that moment; a fresh breeze providing a reprieve from the scorching wasteland. While too gradual and focused to be comparable to a bucket of ice water being dumped over your head, Dances is a naturally occurring instance of sunny indie-pop – like a fresh breeze out of nowhere. Present influences like The Beach Boys and The Eagles make it hardly surprising that the trio is from California. While their sound certainly fits in among contemporary indie-rock's greatest names ("Older" is reminiscent of Fleet Foxes' expanded folk-rock as much as it is The Beach Boys' soaring harmonies, while the second half of "The Dance" has the choir-boy jubilance of The Shins), it is hard to miss obvious nods to surf-rock and various forms of AM Pop, ranging from The Byrds' eclectic fusion of country-rock, psychedelia, and folk to Jim Croce's soft-rock conventions.
Lead single "So Far / Vertigo" takes its name from the U2 track due to singer Ryan Pollie's joking adoration for Bono. "Bono's music has done to the world what Advil has done to countless hangovers," he sarcastically explained. "[It has] relieved unnecessary pain and suffering." Pollie is kidding, so listeners should be pleased to hear that Warm Weather stick to their natural pop music smarts rather than pursue U2's anthemic, often over-produced sound. Sure, Warm Weather sound like an eclectic collection of other influences (mentioned above), but with none dominating the material or bleeding into the group's prevalent songwriting talents. Another fine example is the irresistible "Coney Island", which is not on Dances but is definitely worth a listen. Check the bottom of this page for the stream.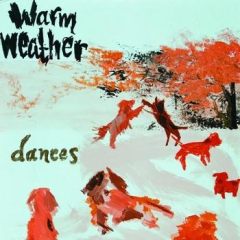 If anything, "So Far / Vertigo" is bound to bring forth Vampire Weekend comparisons, mainly for the initial Afro-pop key stabs and tribal-like backing harmonies. "So far away from home," is what Pollie repeats throughout the first minute, right before a slick guitar riff prompts heavier emphasis on the snare drum and unveils a fluttering array of multiple accompaniments and harmonies. Subsequently, the bridge between each verse is reminiscent of southern-rock mavens like the Allman Brothers, emitting a wide frequency of mirrored guitar progressions characteristic of their more instrumental works. The track is a beautifully eclectic collection of influences, one of the most enjoyably varied on the five-track, 12-minute EP.
While this is surely good enough to be a single, the best example of Warm Weather's innate songwriting ability is the sparkling "I Only Know". Bubbly synths emanate from the background as a sprightly guitar line is plucked with great vigor, paving way for an outstanding chorus led by whole-note guitar swipes and trickling staccatos. The freshly intimate, yet serenely lackadaisical, feel of the reoccurring chorus is telling of the summer breeze analogy mentioned before; can't you just feel it? My only gripe with Dances is actually complementary in that it is way too short. Such is the case for a breakout EP, whether you're talking about a group like Washed Out or Voxtrot. In their cases, it took multiple EPs before an album release. It sounds like Warm Weather are already to take the next step, and after listening to the tracks below I bet you'll hope for the same.
You can download Dances for free via their Bandcamp.
RIYL: The Beach Boys, Fleet Foxes, Vampire Weekend, The Byrds, The Association, The Kinks, The Eagles, The Shins, Explorers Club, Local Natives, Bon Iver, The Antlers, Band of Horses, Cults, The Cave Singers, Andrew Bird, Noah and the Whale
Warm Weather – So Far / Vertigo