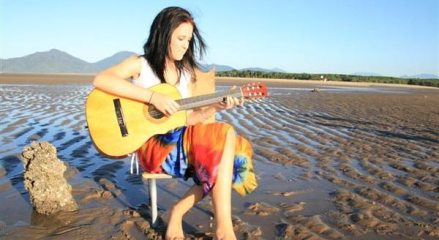 Emma-Louise can make anyone's knees weaken with her fluctuating voice; it's on powerful display between deeply sobering narratives and near-falsetto gasps, alternating with genius precision in accordance with her stirring arrangements. On her new four-song release, Full Hearts & Empty Rooms, the 19-year-old Aussie shows a surprising range of approaches in guiding her efforts to respectable stylistic plateaus. The opener, "Bugs", is more telling of the singer's conventional radio-ready side. The initial folk-heavy leanings make a somewhat disappointing transition to country-pop "ooh"ing, which sounds like it belongs on the Country Strong soundtrack. It's a surprising choice as the opener considering it shows Emma-Louise's most linear side by a long shot. Immediately, the outstanding "Jungle" relinquishes any doubts about Emma-Louise's aim; whether she is shooting for the stars as a legitimate artist or commercialized image is abruptly answered, clearly favoring the former.
"Jungle" explains why comparisons to Florence + The Machine are so abundant, and in my opinion also to The Rosebuds. Like Kelly Crisp, Emma-Louise shows dominance in theatrical tonal shifts and "Jungle" is arguably the finest example of that. Heavily reverbed organ stabs provide the only musical guide during the song's first moments, with an airy synth pad signaling entry for a light single-note guitar progression and steady kick drum. "Heeeyyyy," she calls out four times before the chorus, gradually increasing in pitch and emotion as the main hook is introduced – "My head is a jungle, my head is a jungle." The verse is an exceptionally nonchalant counterpart, depicting a semi-narrative as Emma-Louise follows the existent structure. Apart from additional guitar progressions and interesting vocal layers at the end, it generally follows on this conventional path but does so with the confidence and swagger to maintain interest.
While Emma-Louise has clearly found her voice at such a young age, it is easy to see why most listeners would prefer the depth of "Jungle" to the somewhat cliché "Bugs". Considering the other three tracks showcase the ambition that Emma-Louise is capable of tackling, it is not much to worry about. "Al's Song" tells us why Emma-Louise should continue to pursue narrative lyrical structures that encourage hybrids of soul, jazz, and folk. Her voice is suitable for all three approaches, and her knack for theatrical hooks doesn't discourage that. The gorgeous minimalism of "1000 Sundowns" is aptly titled, and is sure to earn plenty of comparisons to "the female version of Jeff Buckley" – at least on the vocal front. Not a bad comparison for a 19-year-old, even if it's clear that Emma-Louise is far from the norm for musicians her age.
You can purchase Full Hearts & Empty Rooms for $3 (40% discount) via GroopEase for the next two days.
RIYL: The Rosebuds, Florence + The Machine, The Kills, Adele, Kate Nash, Bat For Lashes, Adele, Lykke Li, La Roux, Sia, Little Boots, Oh Land