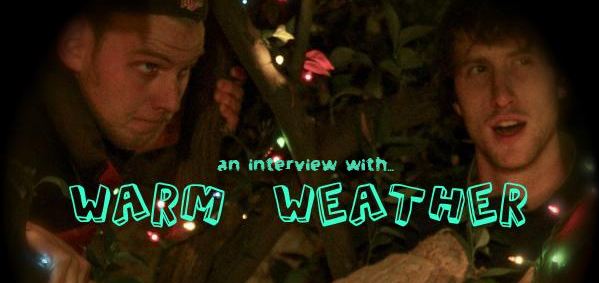 I spoke with Warm Weather's Ryan Pollie, who covered everything from his childhood piano lessons to the production process of the LA trio's Dances EP. The release is currently being offered at an absurd discount on GroopEase — $2 for five excellent tracks. Check it out to see Warm Weather are rising quickly. Also, at the bottom of this post, you'll find an exclusive MP3 from Pollie's solo project, Shara.
To read more about the Warm Weather, check out our feature of Dances here.
How and when did you guys meet? Did you have intentions to make music together from the get-go or did Warm Weather's formation take awhile?
I grew up with Justin. Brendan and Justin met in college. I met Brendan at his house on our road trip out here, and I think we decided we wanted to make music with the three of us within a couple of days. The beginning of the band and Dances were both super organic.

You told me earlier there's another EP on the way. Do you plan on releasing several EPs before your full-length, or plan on jumping into your first full-length shortly after the new one's released?
I can't really say yet. I know that we are going to do a full length. There's a lot that goes into an album, though, and a Warm Weather album is a concept that means a lot to us. I don't suspect we'll have more than 3 EPs before a Warm Weather album.
One of the best tracks on Dances, "So Far / Vertigo" has a strong Afro-pop vibe in its first half before expanding into an eclectic jam. It has a very worldly sound. Are there any artists or movements specifically that inspired you when writing this track?
I'm personally inspired by the "repeat the same thing over and over again" movement, which explains the beginning. I don't think we ever purposefully draw influence; it just kind of happens very naturally. Looking back on the writing of that song, it was Brendan with a bass jamming along to me playing that tambourine beat from the track. The beginning was written in the studio for Justin when he was in Boston visiting his girlfriend. I think I hear Graceland's influence on us the most on that track. We definitely love that record and Paul Simon in general. I dig other Afro-pop though for sure. I like a lot of songs Vampire Weekend do, and think the first Fool's Gold album and what Esau Mwamwaya does are fantastic. Have you heard what he and Very Best did with the Badlands/True Romance theme?
I haven't, but I know the original. I need to check out their version. It must have some pretty interesting production. Speaking of that, what was the production process for Dances like?

I'll tell you what it was like for Brendan. It was like not sleeping for a week and mixing pretty much nonstop. We had a lot of pre-mixes, different masters, compression options. We changed how we were busing out the whole project at one point after we had mixes for every track. Production is a much more scary process than recording for us. Brendan did such a fantastic job finding our sound for Dances, and Justin and I were there to basically weigh in and make things democratic. If we didn't have Brendan, the EP would have sounded way different and probably bad. Also, thanks to Brendan, I can say flashy things like New York Compression and Haas Effect. And I think Brendan has since taken a nap too.

What's the cover art from?

Our friend Christine is an awesome artist who has always supported the band. It not only felt right to have someone like her do the cover art, but the painting turned out great for the sound of the record, I think.

The next song on the EP, "I Only Know", shows how well you guys can blend different vocal harmonies together. Everyone seems to have differing deliveries to some degree. How do you decide whose voice to slot in at each particular moment? Is the lead often determined before or after the songwriting is completed?
A lot of the singing has to do with who wrote a specific part. If not having to do with writing, it sometimes has to do with who sounds the best on any given part due to range or performance.

Did any of you have singing experience prior to the band, in choir or something?

There's this scene from The Music Man where Harold Hill teaches these guys who never sang a note before how to sing in harmony, and by the end of the scene they're singing perfect barbershop arrangements. I'd like our audience to think that we never sang before Warm Weather, and then all of a sudden had this weird knowledge of how harmony worked.

When was the first time you started writing or playing music?
My mother must have had something up her sleeve telling an ADD kid to sit at the piano every day and practice. I would always be unprepared for my lesson, but I'd have like two new songs. I didn't seem to get in trouble with mom as long as I was playing something. So now I'm a songwriter, but pretty bad at reading music.
Tracks like "Older" and "The Dance" are telling of your admiration for both hard-rocking electric styles and acoustic folk. Does your upcoming solo release emphasize either of these styles? Both?
The other guys have been cast for "The Sing-Off" for NBC all summer as part of the Dartmouth Aires, so I had the past couple months to get the new Shara EP together. It's called Hourglass Tape. I did a solo album under Shara a couple of years ago, and a short EP after graduating. Hourglass Tape was intended to be glorified demos for Warm Weather, but ended up working well as its own thing. It's not really very hard rocking or folky. Much less accessible, pretty weird. I hope some people like it.

"Coney Island" is an absurdly catchy track. Have you ever been there?
I was calling that song "Coney Island" before we had words or anything and Brendan was still teaching me how to play it. For some reason that was the picture it painted in my head; this old park with the giant wonder wheel. I've never been there. I'm not sure the other two have either. We'll go one day and play the song from the parachute jump. Or while jumping from it.

Excellent Hollywood busking video. How often do you busk? The foot tapping on the tambourine is a great addition.
That video was a blast to film. I think we made over $3.60 that day. Glad you like the foot drums. We pretty much always do it live.

"Bull Run" sounds good. Will that be on a future release?
Yeah, the recorded version is great because it has like three moods and sections. The verses are really kind of twangy and raucous and then the choruses are really pensive and emotional. Then eventually it's just a big monkey jam time.

What's on the horizon for Warm Weather?
Hopefully more kazoo. Meg White.
RIYL: The Beach Boys, Fleet Foxes, Vampire Weekend, The Byrds, The Association, The Kinks, The Eagles, The Shins, Explorers Club, Local Natives, Bon Iver, The Antlers, Band of Horses, Cults, The Cave Singers, Andrew Bird, Noah and the Whale
Warm Weather – So Far / Vertigo