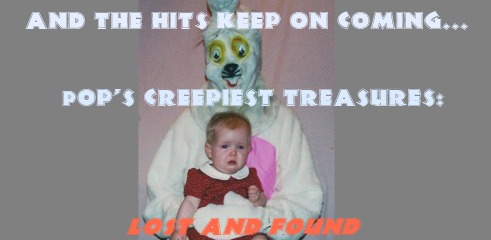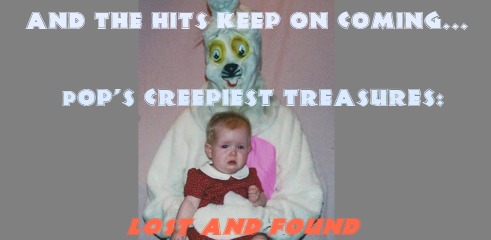 01. The Crystals – "He Hit Me (And it Felt Like a Kiss)"
02. R. Stevie Moore – "I Wanna Hit You"
03. Whipping Boy – "We Don't Need Nobody Else"
04. Wilco – "She's a Jar"
05. Roger Klug w/ Billy Action – "Baby Teeth"
06. The Critters – "Younger Girl"
07. R. Dean Taylor – "Shadow"
08. Momus – "A Dull Documentary"
09. P. Vert – "Stickball"
10. Clarence Ashley – "My Sweet Farm Girl"
11. Half Japanese – "Karen"
DOWNLOAD NOW>>> (46.38 MB)
Mirror Download #1
Preview:
R. Stevie Moore – I Wanna Hit You

———————————————————————————————————————————–
Compilation Notes, written by Daniel Levine:
Love, as those who have been in it can attest, is a finely tuned balancing act of emotions and expressions, one which can be tilted askew by the slightest bit of overindulgence, made threatening by the tone-deafness of a proclamation.
Pop music, never known for its subtlety and largely celebrated for its lack thereof, is a particularly fertile rose bed of wrong. How wrong you say? How wrong is this: in the compiling of this mixtape, a scale bounced right and left in my head, everything had to be in the right proportion (though this might be as good a time as any for excess): don't want too much pedophilia, don't want it to crowd out the domestic violence, and stalking I had to just toss out completely due to the sheer volume of them. Here's a list of songs considered with notes, an appetizer for all the unappetizing morsels to come, a little stocking stuffer for all the rock 'n' roll restraining order die-hards out there, conveniently broken into 3 sections:
In on the joke:
-The Police – "Every Breath You Take" (and "Don't Stand Too Close to Me", "Can't Stand Losing You", and the list goes on and on)
-Randy Newman – "Suzanne" ("I'm gonna wait in the shadows/for you to come by", or how about "I'm gonna rub my fingers through your hair/and love you everywhere")
-The Beatles – "Run for Your Life"
Would get the joke if it was explained slowly to them
-Blondie – "One Way or Another"
-Duran Duran – "Hungry Like the Wolf" ("I'm on the hunt/I'm after you")
-Tegan and Sarah – "Living Room" ("My windows look into your bathroom/where I spend my evenings watching you get yourself clean")
-The Turtles – "Happy Together"
Awaiting their court date
-Clay Aiken – "Invisible"
-Hunters and Collectors – "Throw Your Arms Around Me"
-Def Leppard – "Two Steps Behind" ("I'll be two steps behind you/wherever you go")
There are dozens more of course, and that doesn't even begin to take into account the songs about objects of stalking. Singing Stalk-ees may be a future Obscure Sound mixtape if this article gets enough, though the whole concept of stalkers may  be a quaint anachronism in the post-Facebook world.
Enough honorable mentions. Let's get to the tape. I've arranged it into "Domestic Violence", "Underage Love", and "Unclassifiable Wrong".
We start off the tape playing the hits: "He Hit Me (and It Felt Like a Kiss)", "I Wanna Hit You", "She's a Jar", and "We Don't Need Nobody Else". Notes by song:
"He Hit Me (and It Felt Like a Kiss)" by the Crystals is infamous now, the bizarre hiccup in the otherwise innocuous Back to Mono collection of Phil Spector productions. Carole King wrote it supposedly after hearing Little Eva talk about an incident with her then-boyfriend. It's a pop culture relic of a time when attitudes toward these things were much more confused than they are now, to be put historically with the scene in Play It Again, Sam where Diane Keaton's character says she'd welcome a rapist. Keaton later starred in Looking For Mr. Goodbar, which featured a climactic rape/murder scene and Phil Spector was put in prison for shooting a woman in the face. If a hit felt like a kiss, god only knows what that felt like. Most telling is Spector's tone-deafness. Take away the lyrics and it could be any other product from Philly's hit factory.
R. Stevie Moore's "I Wanna Hit You" could be taken as a prequel to "He Hit Me". This song, more aware of its dimensions, begins innocuously enough with professions of love on the part of a narrator who finds the woman in question wise, beautiful, sweet, and sexual, but takes a bipolar turn in the chorus. The delivery is a shrug. "What can I say, I wanna hit you." The music video only deepens the creepiness.
"We Don't Need Nobody Else" by Whipping Boy tempers its domestic violence narrative with plenty of self-awareness, Radiohead guitar swirls and Lou Reed speak-singing. It seems to be strictly taking on the dimensions of the issue until the mid-song taunt of bravado: "That really hurt, you said/ Yeah! And you thought you knew me!". Disturbing.
"She's a Jar" by Wilco, while a wonderfully catchy piece of pop songwriting, should serve as a warning sign to Jeff Tweedy's wife (if not, mid-album murder ballad "Via Chicago" should do it). The song is littered with non-sequiters, but finale "you know, she begs me not to hit her" stands out the first couple spins. The full gravity never sinks in that the casual relation implied in the "you know" brings the song around from shocking to unnerving.
We move away from violence to more tender and unquestionably illegal waters with a suite of songs wherein love knows no bounds, but is especially ignorant of those bounds pertaining to statutory rape statutes! AND THE HITS KEEP ON COMING!
Billy Action's "Baby Teeth". Commentary on any song whose chorus consists of "She's still got her baby teeth/but I lost mine" would redefine the term superfluous.
"Younger Girl", written by the Lovin' Spoonful's John Sebastian and a hit for The Critters in 1964, continues our countdown of pop in the (under-)age of Lolita! The premise is one of pure lust. "One look in her eyes and you'll forget everything you were waiting to say." Fine. Most people have inappropriate thoughts, but he keeps sticking foot firmly in mouth until asking the listener "should I hang around, acting like her brother? In a few more years they'll call us right for each other". This is a burning desire that can't be quenched. If he waits, he'll "just die". No! Bad critters! Leave it alone, she'll soon just be "The Little Girl You Once Knew"…
"Shadow" by R. Dean Taylor. A declaration of lust for a girl who Mr. Taylor repeatedly clarifies is "only 14 years old." Now we know why Indiana really wanted him.
"A Dull Documentary" by Momus. Momus waits for the child to go to sleep so he can get to the babysitter, but when the kid wakes up again…
We've seen the bed, the bath, now let's go…beyond.
"Stickball" by P. Vert starts out with a laid-back groove and nostalgic spoken-word reminiscent of childhood that could've come straight out of "Coney Island Baby". But Mr. Vert wants to do a bit more than "play football for the coach". You want to turn away, but how many other songs can you name that follow an exhortation to "whip some skull on me bitch!" with a proclamation of sainthood?
"My Sweet Farm Girl" by Clarence Ashley is one of the few 78s to feature a 69. The innuendos get more and more bizarre as they go on. "I keep her garden all free from bugs and weeds." While the sexual element is obvious, the hygiene is enigmatic. Salad is tossed: "I trim her hedges/I clean out her backyard".
"Karen" by Half-Japanese. Flute is rarely utilized on Half-Japanese's albums, nor are female guest vocalists. Both converge here for a song one might feel less than comfortable spinning late at night.