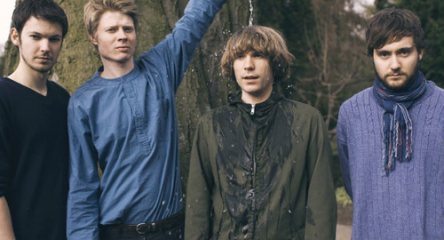 Treefight for Sunlight is an apt name for the Danish four-piece. Well, the Sunlight part at least. Their sun-drenched, euphoric harmonies emit every existing positive emotion.  When their eponymous debut album was released earlier this year, I assumed it would be thrown into the spotlight and serve as one of the year's most praised alternative releases. For reasons that I cannot understand, this was not the case.
When jumping into their unique sound of ecstatic summer pop, it's easy to think of The Beach Boys, The Zombies, Beach House, and MGMT, all uniting their sounds to create an accessible sense of pop-laden euphoria. They combine falsetto vocals with dreamy compositions that transport you to the happiest place in the world.  They somehow create this magical effect with just their voices, a keyboard, guitar, bass and drums. At this point, I don't want you to get the wrong impression; they're not cheesy. They make glorious pop music in a way that still retains rawness and creativity.
Some songs do stand out more than others. Among a few, "What Became of You and I?" always sticks out as a strong number. The precise and tight drumming from Mathias Sørensen puts all focus on the trance-like, catchy melody beautifully carried out by Christian Rohde Lindinger. He also demonstrated the power of his voice when I saw the band live; they played a note-for-note cover of the Kate Bush classic, "Wuthering Heights". It was phenomenal. "Facing the Sun" was the first single and epitomizes the entire album. Its upbeat tempo and complex rhythms, combined with jovial riffs and catchy vocals, make for a track that never fails to put you in a good mood.
One song is an oddity, in that it isn't in the same style as the rest of the jolly album. "Tambourhinocerous Jam" is a conciisely dark instrumental, tambourine-based jam. Usually, I would put this down to pure pretentiousness; however it fits in well with the record. It keeps you alert and stops you losing interest in the golden formula that the band seems to have found. Any darkness left from that track is quickly hidden away by the familiar brightness of "Riddles and Rhymes" with its fantastic climax of an ending.
On the whole, Treefight for Sunlight is one that is an instant source of upbeat optimism. From the explosions of pure ecstasy at the start of "The Universe Is a Woman" to the enchanting tone of the guitar in "Facing the Sun", it is clear that these four young Danes posses huge amounts of talent as instrumentalists and songwriters. Regularly playing and writing music together since they were children has, without a doubt, paid off.
RIYL: The Beach Boys, The Zombies, Beach House, MGMT, Kate Bush, Figurines, Gruff Rhys, Sea of Bees, Wild Nothing, Twin Sister, Tennis, Lower Dens
Treefight for Sunlight – What Became Of You And I?

Treefight for Sunlight – Facing the Sun

Treefight for Sunlight – Time Stretcher
Treefight for Sunlight – Wuthering Heights (live)
Official Site / MySpace / BUY