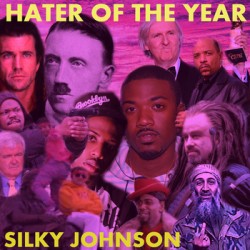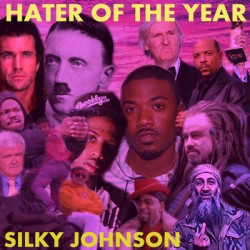 The hordes of amateur mixtape manufactures – and the many sites that host them – prove somewhat of a detriment to the most ambitious of the niche. The potential simplicity of the practice makes it daunting to sift through; some mixtapers are content with mundanely placing a rhythm section over a particular beat, as if a track like "Artist 1 vs. Artist 2" provides any merit whatsoever. Alongside them sits artists like Clams Casino, who help ascend the art of mixtapes to a venerable plateau devoid of these mundane tactics – which are essentially an easy way out. It's a trademark of the expansive "cloud rap" movement, propelled by figures like Clams and Lil B. A past collaborator with the latter, Silky Johnson makes the product entirely his own in similar form. Within his smorgasbord of samples, none are particularly willing to overshadow a specific originating beat. While fans of featured artists like Western Tink will find familiar extractions, the work of Silky Johnson is so vastly cohesive and dexterously compiled that it subtly comparable to artists like Avalanches and (early) DJ Shadow, much like Clams Casino and other big names in "cloud rap".
Silky's beats are as smooth as any Johnson, whether we're talking about human anatomy or Megatron's absurd running routes. This is apparent throughout his new mixtape, Hater of the Year. The cover is a rather apt display, featuring the faces of Bin Laden, Bruce Willis, Hitler, James Cameron, etc.; some are clearly bigger haters than others, but over a purple pastel these controversial figures appear calm. Silky makes great use of similar contrasts in his beats as well. Standout "Chasin Paper" incorporates a placid chillwave-inspired percussion beat with an energetic vocal sample, its pitch stretched higher to the max. The sample in question is from Lana Del Rey's "Blue Jeans", whose swanky and seductive form of soul-pop doesn't appear to be a hip-hop match at first listen. Silky shows his sampling chops fully here, extracting several varying seconds between chorus and verse to produce unified magic out of a shortened sample. It is one of several tracks on Hater of the Year bound to catch the attention of hip-hop's most respected producers.

The prevalent success of Hater of the Year is apparent, but even more impressive is the variation of moods throughout the release. "Very Rare" applies a Western Tink beat with fascinating form, approaching the dubstep of Burial with emotive high-pitched squeals combusting over reflective murmurs. It packs a very industrial feel. Look to the stunningly infectious "Fuck the Money" for rich contrast. This excitable burst of energy contains chirping string samples and gospel-inspired vocal cuts; it's the perfect inspiration for a big night out. Also working with Oakland's Green Ova collective in the past, Silky's venture into the eclectic should be of no surprise. The energized "Fast Life" resembles a car ride whizzing past a variety of neon lights, while "Suffocation" provides further exploration of dubstep and electro-ambience roots. "Felicity" resembles something out of a late '80s soundtrack, a la Basil Poledouris. Regardless of the track you're listening to on Hater of the Year, there's something stylistically fascinating implemented in all of them.
Some listeners will be able to spot the actual samples better than others. But the guessing game is primarily irrelevant. What is, however, is the meticulous ability of Hater of the Year to turn an independent mixtape niche that has been rather stale of late into a hopeful edict. Foolish labels like "cloud rap" aside, this is an example of a beautifully crafted release, full of masterful hip-hop beats that big names would be envious over not having. Flourishes of pop, trip-hop, gospel, and electro-ambience (see "Answer Your Call" or "Felicity") are a few of several incorporated genres. This serves as indication of not only Silky's diversity as a producer – but also as a studied music fan.
Download Hater of the Year for free here.
RIYL: Clams Casino, Lil B, Avalanches, Beautiful Lou, Nem270, Keyboard Kid, Babe Rainbow, Young L, Wise Blood, Juj, Main Attrakionz, MellowHype, Domo Genesis, DJ Shadow
Silky Johnson – Fuck the Money

Silky Johnson – Very Rare [Western Tink]