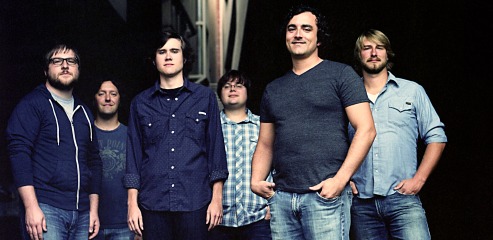 Many of us have a sweet spot for The Beach Boys, or most Brian Wilson recordings for that matter. While their early – and generally most popular – hits are not to be overlooked, the greatness of the group fully emerged with the 1965 release of Today!.  This classic marks the beautiful crevice between early hits (like "Surfin' U.S.A." and "Fun Fun Fun") and Wilson's emergence as an astoundingly ingenious producer, influenced by classical artists as much as those within the barbershop tradition and garage-rock roots. The latter's presence was felt more prior to '65, while Wilson's fixation with the George Gershwin's and Maurice Ravel's of music's past was showcased in bolder form thereafter. Sure, the melody of 1963's "Surfer Girl" was largely inspired by Gershwin's "Rhapsody in Blue", but the early hits were only a tease of Wilson's magical production that would fully reveal itself on one of the best pop albums ever released, Pet Sounds. Wilson was always infatuated with Gershwin. It just took several years of experience before he could intrepidly tout the influence beyond the form of a reflective keyboard melody.
Wilson was always a genius songwriter, but it was not until Today! that his combined musical experience and recent fascination with Spector's "Wall of Sound" came to fruition on the production front. The post-Pet Sounds era is often overlooked by casual listeners, who are content with the early hits and sophistication of Pet Sounds, but have qualms about trekking into a later discography that holds the stereotype of large inconsistency. This is, for the most part, a false assumption. Not including the SMiLE cuts, there were five full-lengths after Pet Sounds that should be required listening for all fans of pop music: Smiley Smile, Wild Honey, Friends, Sunflower, and Surf's Up. This is especially the case for Sunflower, which by most accounts is just as breathtaking as Pet Sounds despite being criminally overlooked (at least in that sense). Apart from 1977's The Beach Boys Love You – the only release after Surf's Up with notable involvement from Brian – there is little essential substance past that point, unless you're counting Dennis Wilson's solo material in the late '70s.
The Explorers Club essentially sound like The Beach Boys during this specific peak of artistry, somewhere between Today! and Surf's Up. Like this aforementioned period, the Charleston-based collective seamlessly alternate from fully expansive string-drenched orchestras to somber acoustical ballads, complete with the layers of sun-drenched harmonies. Singer Jason Brewer's voice is more front-and-center than Brian Wilson's ever was, more so appearing as fusion between his two brothers – Dennis' occasional fun-loving gravel and Carl's soulful affection. There's also plenty of that sullen Burt Bacharach quality, whether on their recently released cover of his standard "Walk on By" or a brand new original track in "Summer Days, Summer Nights". There is not much point in explaining why their 2008 debut, Freedom Wind, was one of the best pop albums of the past decade. It has already been done here. Just listen to the damn album, and you'll see why I'm so excited over the first new Explorers Club releases in over three years.
When Brewer notified me that a new album was on the way, I couldn't contain my excitement… especially when he mentioned the possibility of exclusive acoustic tracks for Obscure Sound (more on that in the coming months). Whereas Freedom Wind was produced by Brewer and Matt Goldman, and that remains the same for The Explorers' Club's second album, Grand Hotel. However, this time around they get a helping hand on the mixing front from a producer familiar with The Beach Boys: Mark Linett. He produced the surround-sound version of Pet Sounds and a bunch of The Beach Boys' two-for-one album re-releases. He has worked with Brian Wilson, Randy Newman, Red Hot Chili Peppers, etc. Seeing the talent of The Explorers Club as well he jumped on board, and considering his successful work with their vein of music it's not too premature to call Grand Hotel a smashing success. It doesn't matter that we won't hear it until early 2012. The band's track record with Linett's guidance seems like a surefire success. And in the meantime, the group plan to release three "suites" before the album. The first, The Californian Suite, will be available exclusively at Amazon MP3 for free on October 25, 2011.
The Californian Suite features the aforementioned Bacharach cover, "Walk on By", along with two new Explorers Club songs, "Weight of the World" and "Summer Days, Summer Nights". It is important to note that these are part of the "under construction mix", AKA pre-Linett. You'll have to wait for Grand Hotel to hear his mixing modifications, along with the thirteen other tracks in addition to these two. The two other suites will follow suit; they will both feature one cover song not included on Grand Hotel, along with two early mixes of tracks appearing on the album. Stay tuned for updates on the other two suites. They serve as perfect appetizers for an album that's bound for greatness. That may be a bold statement, but after hearing the two early mixes for "Weight of the World" and "Summer Days, Summer Nights", I know there will be at least two gems.
If you want to cut to the chase and listen to a finished product, look no further than "Don't Forget the Sun".
RIYL: The Beach Boys, Burt Bacharach, Field Music, The Morning Benders, Herb Alpert and the Tijuana Brass, The Grass Roots, The Byrds, The Zombies, Van Dyke Parks, The Kinks, The Crystals
The Explorers Club – Weight of the World (under construction mix)


The Explorers Club – Don't Forget the Sun
The Explorers Club – Safe Distance

Official Site / MySpace / BUY