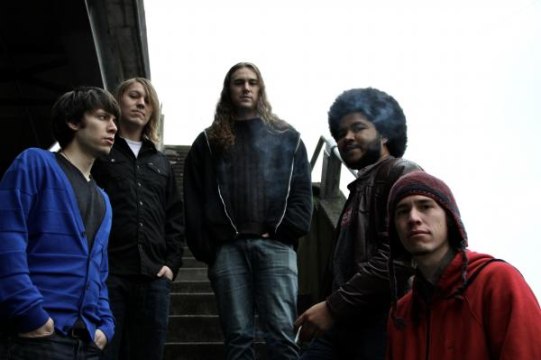 Rare Monk resemble a mix of Celtic punk, avant-garde rock in the vein of Man Man, and southern gypsy-pop complete with quick-moving strings and snarling vocals. For a more concise comparison, think Modest Mouse with an extra shot of caffeine. Considering the high-throttle burst of energy their second EP Astral Travel projects, it's not surprising that a few of its songs were recorded at a brewery. Oregon's Ninkasi Brewing Company, which has a history of supporting their independent music scene, accommodated the Portland-based five-piece. The infectiously upbeat nature of the material makes it apt drinking music, but the group's further reaches into elements of psychedelia, jazz, and funk makes their body of work much more than candidates for a party playlist.
GroopEase is currently offering the EP at $3, a 50% discount. It expires in two days, so make sure to grab it now. Opening track "Shoot Me Down" is an enjoyable embodiment of what to expect: a voice highly reminiscent of Isaac Brock showing great ferocity over a dexterous array of punk-tinged guitar riffs, southern-cooked string solos, and an indestructible rhythm section that serves as the backbone to such frenzied instances of experimentally fused rock.
"Shoot Me Down" is greatly infectious, but listening to the rest of Astral Travel Battles is vital to get a feel of the group's overall talent. The outstanding "Teak" is demonstrative of their lyrical chops, approaching non-pretentious political commentary through metaphorical imagery. The music is fast-moving and exciting here, as it is throughout the entire EP, but Rare Monk's wide arsenal of genres makes it hardly feel like one big blur. Epic closer "Somnifero" implements jazz and funk with surprising effectiveness, resulting in a rock-jazz-funk hybrid that the five-piece should pursue more with their next release. Whichever stylistic direction they choose to pursue, Rare Monk seem poised for success.
Pick up the EP for $3 on GroopEase.
RIYL: Modest Mouse, Man Man, Built to Spill, Why?, Pixies, The Unicorns, Minus the Bear, Cap'n Jazz, Ugly Casanova, Menomena, Akron/Family, The Dodos, tUnE-yArDs