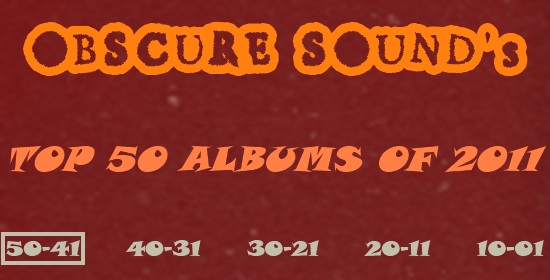 #50 to 41                   #40 to 31                   #30 to 21                   #20 to 11                   #10 to 01
———————————————————————————————-
50. Dirty Beaches – Badlands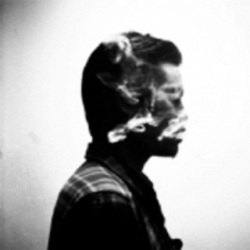 If you were to play Dirty Beaches' debut full-length, Badlands, loudly in your apartment, the neighbors would likely suspect one of two things: either you pulled out an old-fashioned phonograph and started playing cracked vinyl records of early-era rockabilly, or you were blasting a documentary focused around Beat Generation novels like On the Road and Naked Lunch. The reason I picture a narrative character in place of songwriter Alex Hungtai is a complement to Dirty Beaches' distinctive display of stylistic nostalgia and the contemporary lo-fi movement. Badlands finds many comparisons to Springsteen's cult-favorite album Nebraska, where he would alternate sparsely haunting folk music with glimpses of rockabilly aided by the occasional Elvis-like yelp. If the album title was extracted from the Springsteen song of the same name I wouldn't be surprised. The outstanding narrative power of Nebraska is undeniable, and Dirty Beaches follow a similar path in a concise 27-minute release built on nostalgia, imagery, but most importantly great songwriting that finds perfect accommodation in its unconventional lo-fi production. Review>>>
Official Blog / MySpace / BUY
————————————————————————————————————————————–
49. Moonface – Organ Music Not Vibraphone Like I'd Hoped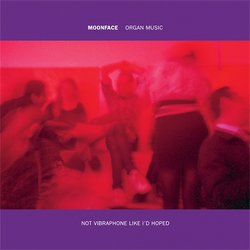 Spencer Krug is wise enough to categorize his lofty ambitions in the form of various projects. Wolf Parade and Sunset Rubdown are his best known ventures for good reason. The former is more willing to ride on hooks and with tight art-rock savvy production, while Sunset Rubdown is a more unrestrained version of Krug that produces epic rock operas ("The Men Are Called Horsemen There") as often as it does soaring and infectious power ballads ("Apollo and the Buffalo and Anna Anna Anna Oh!"). Keys and guitars are Krug's forte, though with his solo project Moonface he experiments with just the keys — marimbas to be specific, with key-based loops and drum machines. Krug's previous release under the moniker, Marimba and Shit-Drums in 2010, was the first indication of Krug's most recent project. He named it Moonface, so no one was surprised when it sounded like a mixture of chiptune and anxious prog-rock. Organ Music refines the sound of Moonface's first endeavor, even if it comes across as more self-indulgent in the process. But with gems like "Return to the Violence of the Ocean Floor" and "Fast Peter", both of which showcase Krug's knack for atmospheric build-ups and swift hooks, Organ Music is worthwhile despite being generally inferior to Krug's other offerings. Moonface is an experiment for sure, but with results that are positive more often than mixed.

MP3: Moonface – Return to the Violence of the Ocean Floor
Official Site / Extra Track / BUY
————————————————————————————————————————————–
48. Quichenight – Quichenight I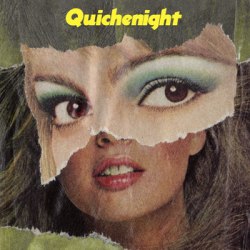 Quichenight I, the first album by Boston native Brett Rosenberg's band Quichenight, features nostalgic components of classic rock, namely the excitable guitar twang, bustling keyboard accompaniments, and quirky yet unpretentious lyrics reminiscent of other revivalists like Dr. Dog and Ariel Pink. Quichenight's sound is comparatively lo-fi, and though the album was recorded "in a Nashville Tennessee basement", there is little of the traditional Nashville sound at work here apart from country-pop exercise 615. There are a couple excellent songs on the album which point the way toward some future iteration of Quichenight, which leans less on the specter of Dr. Dog ("Stuck Here" could've been taken right off Easy Beat) and The Minus 5. These moments come largely when a variation in rhythm lends definition to Rosenberg's plentiful hooks, such as on "The Sober Ones", where the guitars stab with each strum, punctuating the nasally angst of Rosenberg's struggle with a sober society which he doesn't take part in. The other major standout track, and subject of the band's first music video, is "L.A. Time". This song is just a wash of hooks and wonderful vocal harmonies; it gives Caribou a run for his money. Rosenberg may sound like he's imitating his heroes at some points, but there's no denying he has many similar melodic gifts. Review>>>
MP3: Quichenight – The Sober Ones

Official Site / Facebook / BUY
————————————————————————————————————————————–
47. Matthew Herbert – One Pig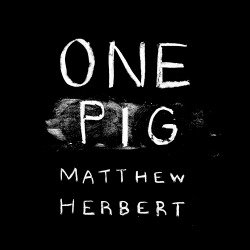 You never know what you're going to get with Matthew Herbert, a true musical chameleon that could write a full orchestra Broadway hit (see Scale) in the same day as a droning electronic experiment. Listening to the harsh One Pig will catch anyone off guard with its idiosyncratic delivery, a collection of field recordings that confidently sound like a farm under attack from a horde of flesh-eating demons. Take "November, for instance. It evolves from the quaint sounds of a pink oinking and snorting, seemingly at peace, to a harsh discordant whirring with hectic rhythm and lead buzzing reminiscent of a dentist's drill. Too bad for Babe the Pig that Thanksgiving arrives in November. We trace back to Herbert's dispute with PETA over the concept of One Pig, which was to audibly document the life and death of a pig — from its birth to butchering. On that front, it's a job well done. I'm sure Morrissey appreciates it too. Beyond the novelty factor , One Pig is a bold venture that proves unforgettable to anyone with the patience to sift through it. Herbert's subtle touches, like the stricken tremolo in the far background of "October" or the poignant ode-to-pig acoustic charmer "May 2011", provide plenty of melody and color to an experimental set of field recordings.
————————————————————————————————————————————–
46. Gang Gang Dance – Eye Contact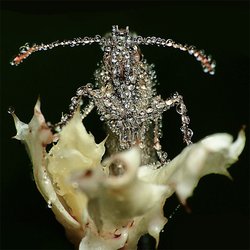 Gang Gang Dance are becoming increasingly difficult to classify. Each of their albums deal in different stylistic realms and structural tendencies, their ambition seemingly growing with each successive release. Their newest, Eye Contact, is a wonderful fusion of both their pop and ambient smarts, sounding like a disciple of Brian Eno and Talk Talk more than past rampant dubstep comparisons. "Glass Jar" is a gorgeous opener resembling the pinnacle of a futuristic sound, best accompanied by a vast array of stars and lucid planets with blue and green pastels. Wispy synths dart across the track like shooting stars, guided by the dexterous drumming of new addition Jesse Lee, whose added jazz and Latin rhythmic flair helps steer what GGD consider their first true pop album. The lofty association of rhythmic styles like jazz into an electronic soundscape reminiscent of both ambient sci-fi film scoring and glittery Italo-disco. One reference point is to Talk Talk's later career, when Mark Hollis produced Spirit of Eden and Laughing Stock with the simultaneous virtuosity of a pop songwriter and jazz ringleader. "Chinese High" is more accessible with similar high-pitched synths and synth solo scatterings. Lizzi Bougatsos' voice is just as high here, both in terms of actual pitch and excitement within, stretching her voice to the limits like Carey Mercer or Karin Dreijer Andersson. Few acts can capture both the atmosphere and pure visceral emotion of experimental pop music like Gang Gang Dance. Eye Contact shows some of their best songwriting to date.
Gang Gang Dance – Mindkilla (Blackbird Blackbird remix)

————————————————————————————————————————————–
45. John Maus – We Must Become the Pitiless Censors of Ourselves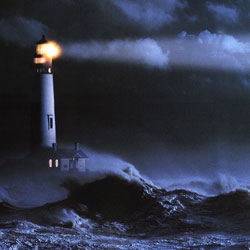 Between his new album and 2007's Love is Real, John Maus worked as a philosophy professor at the University of Hawaii. It's an unlikely role for someone with a cult following since his teens, but Maus is like past collaborator and classmate Ariel Pink in many ways. His sound is eerily unique despite owing much to the nostalgic tones of warm '80s synths, mainly because his structures are as flexible as his moody delivery without sacrificing space for hooks. At times, Pitiless Censors of Ourselves is so eerily complacent that it resembles a hypnotized church procession. "…And the Rain" resembles a cathedral organ in its ascending pitch tendencies and hypnotic lull, while the subsequent "Hey Moon" takes the form of a ballad with its angelic twinkle and gentle murmur. Opener "Believer" enjoyably picks up right where Maus left off with the more accessible yet equally moody Love is Real. Variation was never Maus' forte, so he instead relies on gorgeous layers of synth-laden melodies that achieve an anthemic quality through subtle structural shifts and frequencies. Throughout the album, Maus' voice is forever entrenched in a nonchalant reverb akin to acts like Bauhaus and Felt, which over stiff drum machines and wavering synth tones makes for a very intimate sound. Leave it to a philosopher to craft perfect music for studying, driving, or any other tedious necessity that demands an interesting soundtrack.
MP3: John Maus – Believer

————————————————————————————————————————————–
44. Bill Callahan – Apocalypse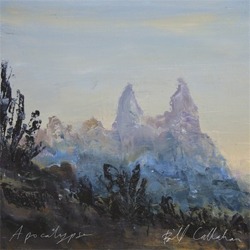 Bill Callahan has a voice like no other man on earth; it's haunting, intimate, spontaneous and passionate. The first thing heard on Apocalypse is Callahan singing a single line, unaccompanied: "The real people went away." His beautiful voice lures the listener into the dark world of Apocalypse, which is darker than his previous material. The rolling drum beat of the album's opener, "Drover", brings the album to life, immediately transporting the listener to a darker and more solitary place. One highlight, "Riding for the Feeling", leaks pure passion; it's clear that Callahan put every last drop of sentiment into it. It enforces an odd attachment from the listener to Callahan, in a personal and sympathetic light that makes one want to comfort him. "Riding for the Feeling" seems as if it's sung in a reflective state, looking back on the last part of his life in sadness and wondering if things could have been different. Maybe it's about his long-term relationship with Joanna Newsom. Maybe not. Regardless, the album works beautifully. It is driven by Callahan's two-piece band, but led heroically by his phenomenal voice. He chooses each word carefully and intricately lays them over his touching compositions with precise timing. Apocalypse provides the listener with a unique and abstract view of not only how Callahan feels about himself and his plights, but also about the world as a whole. Review>>>
Bill Callahan – Riding for the Feeling

————————————————————————————————————————————–
43. Man Man – Life Fantastic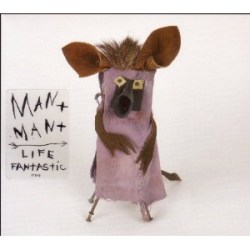 Life Fantastic is more of what we love from Man Man and their creative blending of pop music. Except this time, it gets slightly darker. "Knuckle Down" is an excellent album opener that reminds the listener of why they fell in love with Man Man in the first place: jangly, exotic instrumentation and band leader Honus Honus' signature vocal style. The disturbingly dark lyrics play well off the more lighthearted beat. With true-to-form Man Man flair, "Piranha's Club" is the band's take on '50s doo-wop and boogie music, some of the earliest roots of rock and roll. Keeping to the theme, the lyrics state that "the world is a shit show, as bad as the sequel." Shameless" might be the best song on Life Fantastic. Its piano opener is a fusion of Far Eastern-influenced chord progressions combined with a classical Western symphony-style composition. It's a daring and rewarding mix that makes for an absolutely stunning track. Not since "Ice Dogs" has a song so wholly represented Man Man's unique sound, a sound that could be defined as its own genre, a genre that only Honus and his wacky friends can tap into. Call it drunken pirating tunes, or simply creative pop music. While "Shameless" doesn't feature funny voices, kazoos, or other tiny screwball idiosyncrasies, it feels more complete and straightforward than much of the band's previous material. The same can be said for the bulk of Life Fantastic. Review>>>
Official Site / MySpace / BUY
————————————————————————————————————————————–
42. Neon Indian – Era Extraña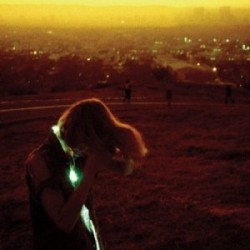 The likes of Washed Out, Toro y Moi, and Neon Indian were understandably weary of the 'chillwave' tag, or anything that lazily grouped them together for that matter. For some artists it would have been tempting to continue developing a small niche out of gauzy synth loops and reflective reverb, with superficiality and nostalgia reigning over any semblance of a structural innovation. Neon Indian's Alan Palomo firmly rejects that notion with Era Extraña, a very pleasing album that infuses Palomo's hang-loose sentiments with a variety of composite adjustments and long-reaching comparisons; "The Blindside Kiss" rides on heavy drum distortion and a faint guitar roar, its halt-go patterns emphasized by sticky layers of reverb that My Bloody Valentine and Low would approve of. The starry-eyed "Fallout" sounds like a lost cut from a John Hughes film, relocating the '80s new wave/electro-thriller vibe M83 mastered with his newest. "Should Have Taken Acid With You" and several other cuts on Psychic Chasms were more revealing of Palomo's occasional tongue-in-cheek demeanor; he's more of a distantly mysterious figure on Era Extraña. The polished production brings Neon Indian's sound to a more grandiose place with loftier ambitions, most of which are fulfilled on this defiant accomplishment. It's very easy to get excited about Palomo's next release.
————————————————————————————————————————————–
41. Beirut – The Rip Tide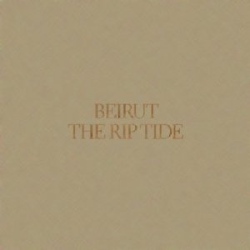 Zach Condon makes music that sounds bigger than it truly is. This fact is made apparent throughout The Rip Tide, Beirut's first new LP in four years. And while the band's previous works have had a 'world music' quality to them, the new album is focused on American locales (see "East Harlem", "Goshen", and "Santa Fe") and could even be considered to be a "Zach Condon album" more than anything else. By consciously choosing to keep this album free of overt cultural themes, Condon was free to explore his own style that wasn't necessarily dependent on an international influence. The end result is The Rip Tide, a jaunt, fun, and straightforward album that skips the pomp and delivers quality songs from one of the most under-appreciated bands recording today. And though it clocks in just a hair under the run time of 2009s March of the Zapotec/Realpeople Holland EPs (combined), it feels more conscious, structured and fleshed out. On opener "A Candle's Fire", signature horns are front and center ready to grab the audience before the large, introductory crash of instruments that leads into the track's summer day buoyancy. Like much of the album, this opening song includes classic Beirut tendencies, but removes all the frill; it leaves a more minimal song, but one that is more focused and brilliant. "Santa Fe" acts in a similar fashion, using sweeping horns to create the grandiose mood Condon envisions. Review>>>
Official Site / MySpace / BUY