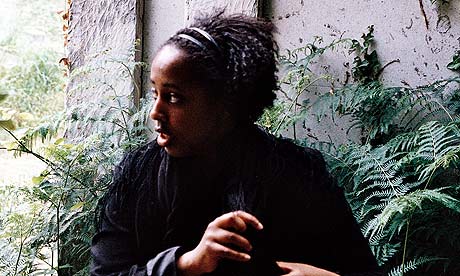 With a creaky yet tranquil voice that sounds like it should belong to a 43-year-old, British music moguls are expecting big things from 23-year-old Al Spx. Hailing from Canada, the home of many other strong acoustic talents, Spx describes her sound as "doom soul". She currently resides in London and calls her project Cold Specks, a name she debuted on December 15th when opening for St. Vincent.

With help from the same production team as PJ Harvey, she's created a wistful, deathly gospel sound. Gospel for its uplifting elements, and deathly for her use of dark lyrics on her debut release Holland, which features the two excellent tracks "Holland" and "Old Stepstone". Listeners will be swayed into a state of relaxation and lulled into a false sense of comfort until thy take heed of the emotive finality of the words she uses. Lyrics like "we are many, we are many, we are dust" are just as they describe, final in the sense of an impending apocalypse. A big, an obvious influence for Spx is Tom Waits, with a similar eeriness and grave honesty.
Holland was released last year on December 13th and, especially after an outstanding performance of Later with Jools Holland, it's most certain the 2012 will bring big things for the young talent.
RIYL: Beach House, Marissa Nadler, PJ Harvey, Clare Maguire, Liz Green, Sister Rosetta Tharpe, Mahalia Jackson
Official Site / Facebook / BUY