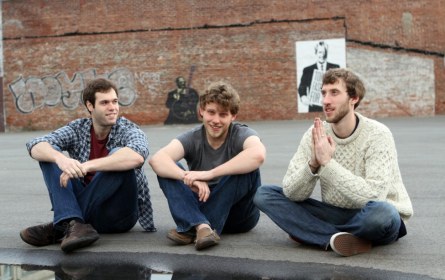 Warm Weather released one of the better EPs of 2011 with Dances, a polished success that drew comparisons to both rock's past and present. The Byrds, Jim Croce, and Fleet Foxes were a few mentioned in our feature, but this California-based trio isn't reliant on traditional influences. Their pop smarts create an inviting sound filled with aspects of lush folk and country-tinged psychedelia, with revered touching stones like Paul Simon providing structural guidance as opposed to being a standby imitation.
In our interview with one-third of the trio, Ryan Pollie, he noted how the "repeat the same thing over and over again" movements for Graceland influenced Warm Weather and their songwriting. The same could be said for Vampire Weekend, Fool's Gold, and Esau Mwamwaya, all of which are able to use Simon and other accessible Afro-pop students as guidance without allowing the influence to become overbearing. After listening to stunning tracks like "So Far / Vertigo" or "I Only Know", it would be foolish to have any issue with the stylistic odes. My only gripe with Dances is that it was too short.
Good news for anyone who thought the same. The trio announced a new EP, Looking Through, for release this month. We have the fourth and final track from the EP, "A Promise". With this we get an almost medieval-like acoustic flair, with overlapping vocal harmonies that remind us of The Beach Boys and recently featured Explorers Club. I even get some Sunset Rubdown hints toward the middle with sharp guitar swipes that resemble a chiptune organ. Fun stuff, and certainly an indicator of good things to come in 2012 for Warm Weather — if that wasn't obvious already.
LOOKING THROUGH EP
  All My Life
  Stay
  Bull Run
  A Promise