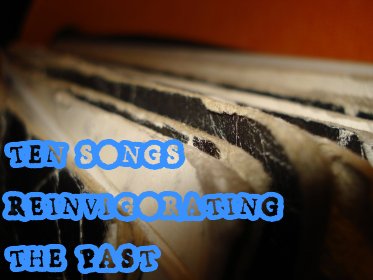 There's a musical revolution afoot.
Actually, it's more like a throwback to the past. Nevertheless, it's happening, and there is no quitting in sight. All over the airwaves, rampant sampling has become the norm in many genres, while other bands have simply taken major inspiration from big sounds of decades past.
While select fans are crying sellout, others are just happy that remnants of their past are finding a way back to modern music. Curious? Look no further than these ten tracks for the freshest nostalgic whiffs of today.
…And people thought the reprisal of vinyl was just a phase.
——————————————————————————————
Fitz and the Tantrums – Don't Gotta Work It Out
Sounds like: Hall & Oates, Sly and the Family Stone, motown
By the time you've hit 0:16 on this funky sextet's playground of a jam, you'll know there is something special here. Try not to bob your head when the saxophone bottoms out on scattered off-beats. Hold back from thrusting your hips when their xylophones meet the piano or when the tambourine shimmies like some energized American Bandstand dance-off.
The L.A. group has been asked to tour with everyone from Maroon 5 to Flogging Molly. And why not? With their breakout hit "MoneyGrabber" and arena-filling sound, it's difficult to imagine them relegated to small clubs and hangouts. Look for them to make big moves on the charts for months to come.
——————————————————————————————
The Black Keys – Lonely Boy
Sounds like: Robert Johnson, Blind Lemon Jefferson, Mississippi blues/garage rock
Fresh off their El Camino album release, The Black Keys released this driving track as the first single. "Lonely Boy" has the perfect sound for that coastal road trip you've been meaning to take. While the sunroof is optional (yet recommended), their insatiable riffs are not, mixing signature garage crunch with a chorus of children singing "I got a love that keeps me waiting."
The actual song sounds just like the infamous car that the album was named for, revving itself to life in the first few seconds and encompassing every shred of atmosphere retained from childhood memories of your father's fix-it shop. Yes, the blues are here, but never have they shown the ready-to-go initiative like this Akron, OH, duo proudly display here.
——————————————————————————————
Florence + The Machine – Shake It Out
Sounds like: Bjork, Kate Bush, religious hymns
Talk about building up to moments of climax: this English art-rock group, fronted by the incredibly moving power of singer Florence Welch, makes it their business to provide mysterious, oft-subdued sounds that burst through the fourth wall when nobody is looking.
One part costumed masquerade, another part church hymnal, this song makes Florence a cool household name again and is bringing the haunting melodies of female singers from the '80s to the 2010s. After singing along just once, you'll have a hard time putting this down.
——————————————————————————————
M83 – Midnight City
Sounds like: Pet Shop Boys, Kraftwerk, synth-pop
You've likely already heard this plenty of times on that Victoria's Secret commercial (mainly because it repeats the hook almost from start to finish). But the truth is the entire album, Hurry Up, We're Dreaming, is built to feel like you are floating in space. The French electronic band cuts a supremely lucid effort, nodding to '80s sounds and gentle wave-like instrumentals.
Be ready to snap your fingers at one point, and get your mind blown at another. They don't let up until you come to. That is, if you feel like waking up. Also, don't miss the saxophone solo.
——————————————————————————————
Black Angels – Young Men Dead
Sounds like: Cream, Jimi Hendrix Experience, Vietnam-era acid rock
Flashy is not exactly what one might call this Texas quintet, but maybe that's the allure after all. Although this particular track is nearly four years old, it's worth mentioning, if only due to the minimalist-yet-monstrous musical march that's produced. It's evident with much of their catalog.
By the time lead vocalist Alex Maas stomps through the first fuzzed-out line, "Fire for the hills/Pick up your feet, let's go," the filthiest of facial expressions often pastes faces. It's a definite treat for classic-rock fans and guitar aficionados alike.
——————————————————————————————
Gary Clark Jr. – Bright Lights
Sounds like: Jimi Hendrix, Stevie Ray Vaughan, Lenny Kravitz
With a Citizen Cope-like swagger and a whole lot of soul dripping from his blues-steeped Epiphone Casino, Gary Clark Jr. has swept the Austin City Limits by storm, securing multiple Best Blues and Electric Guitarist awards in his younger days three different times.
His introspective lyricism, coolly collected solos, and yet-to-breakout stature on the national stage have earned him a healthy cult following. But as his ties to Alicia Keys, Eric Clapton, and Steve Winwood become more obvious, so too does their addictive influence.
——————————————————————————————
Mumford & Sons – Little Lion Man
Sounds like: Crosby, Stills, Nash and Young, Bill Monroe, bluegrass, gospel
These West London folk heroes have been making the banjo cool again with little hits like this, which takes us on a dusty speed bluegrass trip backed by power gospel harmonies, led almost romantically by the brawny might of Marcus Mumford.
Fans of square dancing, Patsy Cline, hillbillies and bonfires – let's not forget a nice romp in the hay – will find solace here. Still in disbelief that such a thing could make a comeback? Check out these Duluth, Minnesota natives, who've been keeping it real since the early 2000s. Bluegrass is hardly a thing of the past.
——————————————————————————————
The Dead Weather – Hustle and Cuss
Sounds like: Jethro Tull, Captain Beefheart, prog-blues rock
It's hard to describe this rambunctious, Jack White-led foursome in simple terms, especially since their genius is coming from the guy who fashioned a crude guitar out of little more than a Coke bottle, a busted plank, and some nails in the opening scene of It Might Get Loud.
One minute they channel the raw drumming of John Bonham. On other moments, they descend into a strangely mesmerizing chapter of bizarre rasp and clash, leaning on the deliberate shakiness of Alison Mosshart's voice (of The Kills fame.) Don't be quick to dismiss them for their oddity. There are two solid albums here full of intriguing messes to get lost in.
——————————————————————————————
Beats Antique – Revival
Sounds like: Ravi Shankar, electronic afro-beat, Middle Eastern influences
This constantly shape-shifting outfit from Oakland does it, well, like a family heirloom. The cool part about this track, like much of their work, is the fact that casual electronic influences can be heard amidst a number of more-traditional belly dancing grooves.
This fusion of world music styles has won over countless festival-goers at northern Nevada's Burning Man and more. For those who can't seem to cross entirely into any one genre, these are the virtuosos you've been looking for.
——————————————————————————————
Easy Star All-Stars – Dub Side of the Moon
Sounds like: Your favorite classic albums… dubbed out with reggae twist
Another group worth mentioning despite this nearly 10-year-old album is the Easy Star All-Stars. The All-Stars are like a trending brain-trust of reggae musicians mixed with the best dub artists. It's a comforting venture for anyone who loves their old album collection more than life itself (and isn't readily defensive about updated versions of past standards).
Furthermore, their progression of covering famous records (The Beatles' Sgt. Pepper's Lonely Hearts Club Band; Radiohead's OK Computer) indicates that they may well not be done yet. This take on Pink Floyd's quintessential masterpiece has been on the Billboard Reggae Charts since it was released in 2003, proving their outreach is for real.
This list was put together by Drew Nelson of T-Shirts.com, which has a wide variety of music t-shirts, featuring bands past and present.