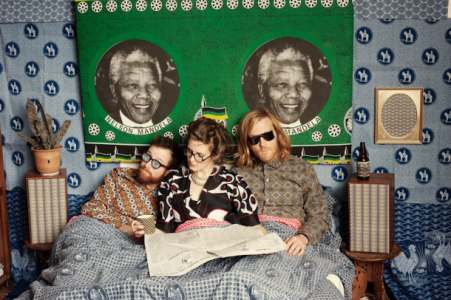 Koko and the Sweetmeats, a four-piece from Seattle, recently announced the release of their new record Sacrifice. The band, who were named "Best Garage Band" for 2011 by Seattle Weekly, describe Sacrifice as a concept "double EP". The six songs on side A are reinterpreted on side B. It's free for a limited time on their Bandcamp.
Within the first few seconds of listening to the LP, I had the band pegged down as "The Phoenix Foundation but a bit heavier." And I wish that were true, because it's a nice sounding description that would make me look sensible in my first article for Obscure Sound. But it just isn't that easy to pin down. By the end of the first track I decided my descriptive line would be "channeling the spirit of Neil Young." But no, a few more tracks in and any listener will discover that doesn't quite nail it either… although I maintain that the singer, Garett Van der Crimp, sounds very similar to the Canadian singer-songwriter, which is certainly no bad thing. But one thing is clear: this record will never, ever be a hit. And this is a record that has no intention of being a hit.
Sacrifice is dense. Not in the stupid sense of the word, but in the fact that almost every song on this 12-track album seems to be covered in a layer of white noise (presumably feedback from a guitar), and this makes it all the more challenging to get to grips with the music, in the best possible way. This is a band that do not underestimate or patronize their listener, which frankly is something this industry has been crying out for lately.
Interestingly, Koko and the Sweetmeats have listed Prince as one of their key influences. This does seem a bit bizarre, as there is nothing on this album to suggest that Prince's synth-pop and dance-oriented numbers are conducive to Koko's repertoire. However, excitingly (for me at least) this means there is even more to come from this quartet, who have already showcased loads of potential on this professional and sprawling LP.
If you held me at gunpoint and asked me which single song from this LP to download, I would probably plump for "Love Song to Make Us Millions", the second track. It's not just for the wry nod to mainstream pop music in the title either. It features the kind of riff that wouldn't be amiss on a '70s rock album, but nicely distorted to fit in with the aforementioned theme of density. It would seem there is too much to this band to base the song on that opening riff, however, and the rest of the track makes it nicely challenging, but possible, for the listener to identify various rhythms within the song. Excellent stuff. Fans of The Brian Jonestown Massacre and The Dandy Warhols should download this immediately.
So to summarize, since it's currently retailing at the price of $0.00, I can't recommend downloading this LP enough, if only to give it a chance. You won't be disappointed.
RIYL: David Bowie, The Dandy Warhols, The Brian Jonestown Massacre, Neil Young, The Phoenix Foundation, Smith Westerns

MP3: Koko and the Sweetmeats – Love Song to Make Us Millions (Side A)

MP3: Koko and the Sweetmeats – Will We Ever Make It to the Ocean? (Side A)