Posted
April 24, 2012 by Tim Osbourne
in Hip-Hop
MP3s: endoflevelbaddie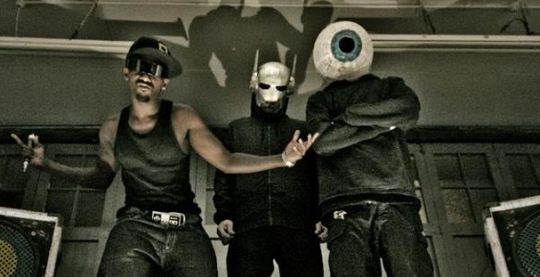 endoflevelbaddie make game changin', genre-crossing electronic music with elements of 8-bit electronica and credible hip-hop packed tightly within. This is interesting stuff that takes Kingston-Upon-Hull's sound out of the gutter and (near enough) into the stars.
EOB (AKA Scott Langthorpe, or Baddie to his mom) started out in his bedroom remixing and producing tracks, but his reputation for big beats soon spread. Since emerging from the darkness of the UK crossover underground, he has progressed and managed to secure some well-attended gigs nationally, scoring slots at Reading & Leeds and in support of DJ Yoda and Dub Pistols (varied… yeah?), and eventually expanding with a live band to increase overall impact. It could have just been a move to make (much) more noise? Good noise. Massive noise.
Anyway, the rest of the band is comprised of rapper Player One and visual artist Eyesaw, who creates awesome images to go with the live sounds.
The standout tunes are all online to check out; listen above or here. Dirty-electro-hop track "I'm Player One" introduces the rapper, while simultaneously striking the ears as itchingly addictive and totally danceable. Meanwhile, something like "Punk Wakeman" offers a softer and more "chilled" approach; low and thumping synths collide with a chugging bass line, forgetting such intense vocals (as on the previous effort) for a great club-friendly result, and one very fitting tribute to Daft Punk, those other masked techno legends. Go score some of this.