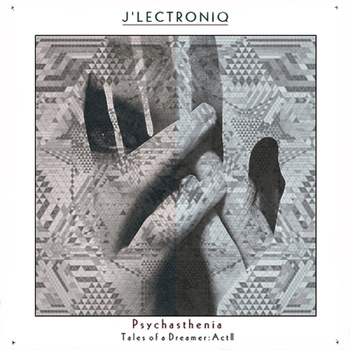 It's incredibly easy to get lost in Psychasthenia, the new album from Dutch producer/beatmaker J'lectroniq. His chilled-out electronica may help lull listeners to sleep with its lush soundscape, but not because it's dull or contrived. J'lectroniq's has blended his experienced hip-hop pedigree with refined uses of IDM, ambient, and dubstep. Slowed-down vocals, similar to the work of Burial and Silky Johnson, are a notable factor in the album's crawling and hypnotic approach. The album's enjoyable placidity is often awash in lush and effervescent synth pads, gradually complemented by gently pounding bass and soft percussive trickles. Other instrumental additions have notable roles, like the jerky strings on "Thoughts (Don't Matter" and the underwater keyboard twinkle in "Universe is Infinite (Feel)", but the album's success benefits most from J'lectroniq brilliant infusion of lush synths and deviated samples.
My personal favorite is "Blamegame", which begins with a sparsely icy keyboard melody that reminds of sprawling Air efforts on Moon Safari, like the spacey intro on "Kelly Watch the Stars". And like that effort, "Blamegame" transitions abruptly to a more pulsating electronic mode, this time akin to Burial's darkly atmospheric dubstep. Slowed-down vocal samples add another melodic element to the song that takes it to heavy emotional heights, especially in the final minute where it shifts to a minimalist, somber ballad. The words are too slow to be discernible, but J'lectroniq is used to creating stirring sounds without a lyrical focus. I'm also fond of the next track, "Brnd Out (Down)". With its creative sampling (what sounds like paper serves a percussive component) and delicate piano melody, I have visions of World's End Girlfriend's excellent and underrated material. Sixteen tracks long, the peaceful sounds of J'lectroniq should not be missed — especially since it's for free.
Download a .ZIP of the album here.