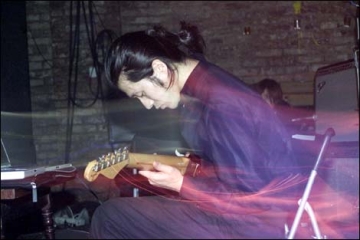 One day last year, on a cold day in January, I decided that it would be appropriate to play World's End Girlfriend's The Lie Lay Land at an uncharacteristic volume, one high enough that would drive most insane after a few minutes. I knew my ears were durable though, and the snow falling increasingly outside was a nice touch. What I didn't take into account was my friend, who I was unknowingly expecting to arrive a few minutes later. When he walked into my room, I suppose the music of World's End Girlfriend gave him quite the experience. Whether it was the torturous volume of the stereo or the creative songwriting of the brilliant Katsuhiko Maeda, the look on his face was one of immediate confusion, curiosity, and bewilderment. After all, it's not every day that you walk into a room and hear a bunch of creepy kids talking over stunning compositions of music, developing in the forms of jazz, avant-garde pop, classical, and electronica, creating something that many of you seem comfortable enough to call "post-rock". Those "creepy kids" were the consistent samples that Maeda used on The Tie Lay Land, gathering snippets of numerous children speaking on several rare horror films. For any fans of the Paper Chase, this is why it should appear obvious to you how Maeda is one of their main influences. I heard someone mention that Maeda creates music that never allows the listener to get too comfortable, and I have to agree wholeheartedly. While the majority of Maeda's songs start out gently and with little chaos, you can often expect an instrumental eruption of sorts in the middle or conclusion of each song. Whether he's throwing in experimental percussion, wind instruments, a busy bass line, a sensual saxophone, or a vibrant rush of keys, Maeda always surprises the listener with an unimaginable fury that can be matched by very few contemporary musicians. As I posted here (nearly exact to a year ago) during my obsessive stage with the band, Maeda has been creating music ever since the young age of ten, dabbling in a variety of instruments after becoming consumed in his father's classical music collection. Since then, he has written over six hundred songs, while releasing five albums under his notorious alias of World's End Girlfriend. He has also collaborated with a variety of universally respected musicians, such as the influential Japanese post-rock band Mono in the 2005 release, Palmless Prayer / Mass Murder Refrain. World's End Girlfriend has gone on to reach a worldwide fanbase outside of Maeda's native Japan, with followings in the United States, Spain, Europe, Taiwan, and Hong Kong being extremely significant.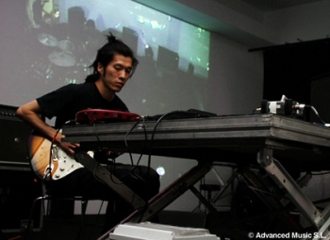 Maeda's releases have always grabbed me, with little resistance to let go. I couldn't stop listening to World's End Girlfriend's second album, Farewell Kingdom, for about six months and I was deeply in love with his fourth album, The Lie Lay Land, for even longer. I believe this lasting factor can be attributed to Maeda's sheer factor of unpredictability, unleashing traits of songwriting that hold little previous influence or regard for the musical norm. Excluding the Mono collaboration, Hurtbreak Wonderland is World's End Girlfriend's fifth album, released last week in Japan. When I picked up my copy, I knew the listening experience would be bittersweet. If the album was a continuation of Maeda's consistency, I would most likely ignore bands who do not go out on a limb to basically define their own genre, for a month or so. Well, I figure I can live with the unintentional contrasting. Indeed, Hurtbreak Wonderland is one of the more enjoyable releases from World's End Girlfriend. The first thing I noticed was Maeda's abandonment from the aspects of horror and fear, choosing to decrease the incorporation of vocal samples as a whole throughout the album. However, the aspect that Maeda could always express the most accurately were ones of melancholy, fury, and emotional repression. This was immediate from the beginning of the album, with "Birthday Resistance" presenting a stirring rush of strings, wind instruments, and an ardently romantic saxophone, creating an atmosphere that is both enjoyable and thought-provoking. The saxophone has been utilized on past World's End Girlfriend albums to a certain extent, but Hurtbreak Wonderland uses it to its full capacity, being extremely successful in doing so. That being said, "Birthday Resistance" is hardly a typical World's End Girlfriend song. Despite the brilliant compositional techniques from Maeda, it is perhaps the most uplifting song he has ever written, even if it is highly enjoyable.
Those who prefer the gloomy side of Katsuhiko Maeda will find pleasure in the following track, the thirteen-minute epic "100 Years Of Choke". For those who have not heard previous releases, this is what Maeda's songwriting typically sounds like. Beginning with a lush portrayal of strings, guitars, and light percussion, it all exists as a build-up to that aforementioned emotional explosion. With close attentiveness, one can hear each instrument act like a building block, layering over one another with precision to create the perfect sound. The saxophone in "100 Years Of Choke" serves as the most significant element of foreshadowing, in addition to the throbbing drums that resemble a faint heartbeat. When Maeda adds a simplistically effective series of keys to the intense mix, those who find themselves completely compelled by the song will notice a definitive chill traveling up their spine. Any song that is thirteen minutes long may appear to be intimidating, but I promise that each and every second of "100 Years Of Choke" will be well worth it once one reaches the satisfying conclusion. With that in mind, like almost all World's End Girlfriend albums, Hurtbreak Wonderland has quite a bit of length to it. Out of the ten tracks, half of them are over ten minutes long. Yes, the album reaches almost eighty minutes, all of which should leave the majority of fans begging for more. "Dance For Borderline Miscanthus" is a very odd song, again being uncharacteristic of Maeda, yet it works again. Sounding like a mixture between Maeda, Boris, and Mono, a distorted guitar is pulled in and out through a diverse array of experimental effects. It is continuously layered over a repeating form of low strings, which audibly appear to express emotions that often hide in dark spaces and corners. The intentional skipping is an interesting effect throughout the production, giving off a feeling of chaotic fury. "Dance For Borderline Miscanthus" is also one of the only songs where Maeda returns to his vocal sample incorporation, using screams, uncontrollable shrieks, and laughter from maniacs as a form of creative expression. Before an initial eruption of guitars and incoherent laughter, one can hear the slight chime of a church bell over an eerie chuckle, reminding me how even the most minor of effects added by Maeda turns out to be extremely rewarding. Try and listen to "Dance For Borderline Miscanthus" in complete darkness. Go ahead, I dare you. Even if Hurtbreak Wonderland is too long and chaotic for the average listener, those attentive enough to appreciate Maeda's sheer brilliance should not be turned off by an album that is already one of my favorites of 2007.
——————————————————————————————
World's End Girlfriend – 100 Years Of Choke
[audio:https://obscuresound.com/mp3/wegirl-100.mp3]
——————————————————————————————
World's End Girlfriend – Birthday Resistance
[audio:https://obscuresound.com/mp3/wegirl-bir.mp3]
——————————————————————————————
World's End Girlfriend – Dance For Borderline Miscanthus
[audio:https://obscuresound.com/mp3/wegirl-dan.mp3]
——————————————————————————————