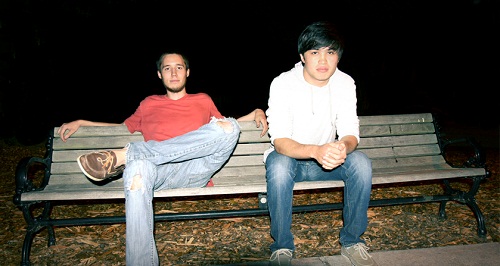 Orikami is a relatively new indie/electronic duo reigning from Kennesaw, Georgia. We featured them last month, with their excellent track "Dead in the Water". In this interview, I sit down with Drew Domalik and Steven Skunberg, the masterminds behind the music of Orikami.
Obscure Sound:  The name "Orikami" has a nice ring to it, and seems to represent something a bit deeper than the typical name.  Was there any specific thought process for the name?
Orikami:  Not really.  We thought the way "Origami" was written looked cool but it didn't seem original enough, so we added the "k" instead of the "g" and the problem was solved.
Obscure Sound:  How did you guys first decide to start collaborating together?
Orikami:  We first decided to meet up while playing Halo over Xbox Live, to mess around with making some music like Flume.  Then we made "Dead in the Water", which was our first actual song, and deciding to keep working together ever since.
Obscure Sound:  What are some of the sources that you draw your inspiration from when writing music? 
Orikami:  Artists we listen to, such as Slow Magic, Flume, and Shlohmo.  Day-to-day sounds and events are also a big inspiration.
Obscure Sound:  What are some of your favorite pieces of gear/synths and software that you guys feel has matched your creative workflow?
Orikami:  We use FL Studio because it makes it really easy to get ideas down quickly.  The only controller we use is a midi keyboard.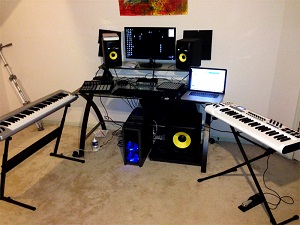 Orikami's most recent studio set-up, via their Facebook.
Obscure Sound:  You guys recently released a new single "Dreams of Then".  Was there any specific message that you wanted to get across with this new single? 
Orikami:  Yes, the song is supposed to be something simple yet fun, and still makes you feel a nostalgic in a way.
Obscure Sound:  In the short time that you guys have been releasing music, you seem to already have gotten a fair amount of press for your songs.  Where do you see yourselves going from here? Are there any plans for a full EP, a tour, etc?
Orikami:  Currently we are trying to find a label to back us.  If we can find that, an EP and tour is definitely to be expected.