Posted
August 13, 2015 by Mike Mineo
in Features
Hollywood Principle – "Firework"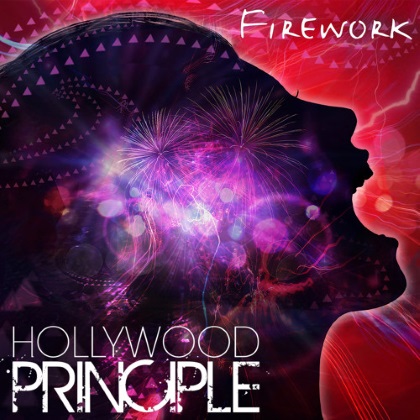 I know I'm not alone in my Rocket League obsession. The game – where players maneuver a rocket-powered car under soccer-esque rules – has become a hit on both PC and PS4 since its July 7th release. There are usually over 100,000 players on it at once! I strongly recommend it to anyone who enjoys sports games or multiplayer games in general.
In addition to the great gameplay of Rocket League, I've always been impressed by the game's soundtrack — a futuristic mix of upbeat electro-pop that aligns well with the flash-forward feel of the game, particularly its futuristic backdrops. I was especially excited when I found out that San Diego-based band Hollywood Principle, previously featured here with tracks like "Breathing Underwater" and "Find Me Out", were creating the game's official theme song. Sleek forward-thinking electro-pop is their forte, so Rocket League developer Psyonix truly did a wonderful job in hand-selecting the group as creators of the game's theme song, "Firework".
"Firework" follows the group's penchant for sleek, polished and infectious electro-pop, with funk-tinged glimpses of glitch-pop weaving beautifully with an active funk bass and Kayla Hope's angelic vocals. Originally written for the band's Starting Over EP, "Firework" was reworked around the time that Psyonix became interested. "The original song had a very strong dubstep flavor to it, and we weren't really happy with that and how it was going to work with Kayla's vocals, so we reworked right about the time Pysonix approached us for a new placement in the next Rocket League DLC pack," explains Elliott Sencan, one-third of Hollywood Principle alongside Hope and Michael Ault. "It was fortunate that we had hit a sound that worked well as a theme song, and we wrapped quickly."
Sencan continues: "Mike did the sound track, and we write tunes together. The guys at Psyonix loved the tunes, so it was an easy fit. It's exhilarating. This came out of nowhere, and suddenly people all over the world from different walks of life are reaching out to us praising our music, which is incredibly humbling. We're happy that such a talent group of guys over at Psyonix have reached such success, and that we get to be involved in any capacity." The public responses so far have been positive — and fascinating. "Our favorite YouTube comment on Firework so far is the guy who called it "the best Seinfeld Theme Remix Ever" or something. Touche, internet dude, touche."
As for whether the band members actually play the game, that's a fact. We LOVE Rocket League!" Sencan exclaims. "Kayla and I are not really big into games, but this is crazy fun. Mike has a PS4 and its a struggle to stay away from the thing and play Rocket League!" As someone who is addicted to the game as well, it's understandable!
As for what's next on the band's horizon, there's plenty. "The next 6 months is going to be very very busy for Hollywood Principle! "Firework" was just placed as the theme song in Rocket League, but we also have the last song on our debut EP – "Starting Over" – coming out as soon as we can get it wrapped. It's called "Forget About You", and its the epic rollercoaster song that we have written as a group. We are hosting a remix contest with our friends at Indaba Music, launching our first EP, wrapping two more songs, and we're pushing out a bunch of phenomenal fan made remixes that we have been getting. Our good friends the Broken Stems have been trying to get us to play more shows, so we're working on our live experience too. Our friend Rob Bondurant out in Nashville tapped us to do a remix of his upcoming single "Crazy People" too, so were gonna try and wedge that in there too somehow."
"Firework" works wonderfully well as the theme song for an exceptionally made game. Both the track and game itself are highly, highly recommended.