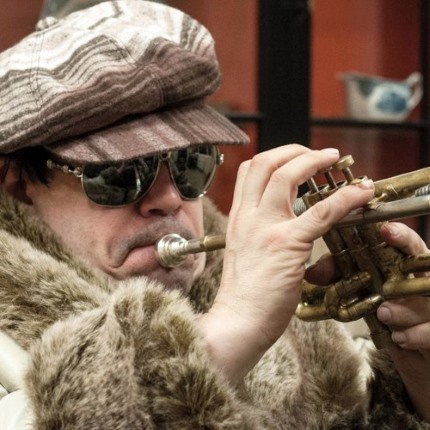 Legendary trumpet player and previously featured Mac Gollehon, or "Chops", as Miles Davis once called him, will be performing in a series of shows across New York City in support of his acclaimed 2016 album, Mac Gollehon & The Hispanic Mechanics. The album was recorded at Bill Laswell's Orange Music Sound Studios and has been billed as "a great mix of Latin-inspired house music, with highlighted acoustic instruments like percussion, guitars and, of course, the powerful trumpet of Gollehon."
Widely praised for its free experimentation, All About Jazz called the album "an entirely unidiomatic yet intriguing new work" while Jazz in Europe wrote "Mac brings so many musical styles to the mix. It is funk, it is disco, it is decisively Latin – with more than a touch of hard jazz – it is good." Jon Ireson of music-news.com says "This album goes to show that latin music has interesting directions to go if it's ambassadors can think outside of the box." Jordan Smith of Cmuse writes "an album that takes you on a journey through Latin rhythms perfect for the summer, beats you'd associate with a club dance floor and even some relaxed moments for good measure." The Latin Jazz Network raved  that "Mac Gollehon & the Hispanic Mechanics is among the finest interpretations of African Caribbean music, and among the most compelling in recent history." JazzTimes.com went as far as to say "Mac Gollehon & The Hispanic Mechanics Have Released the Kraaken!"
Mac Gollehon originally made a name for himself playing on over 500 gold and platinum records including with legends like David Bowie, Mick Jagger and Madonna. He was also the touring trumpet player for Duran Duran. More recently he has become known for hard gigging around not just the New York scene but the whole world. In the past year he has made fairly regular trips to Japan alongside legendary artists like his old friend James Chance. Mac Gollehon has been a mainstay in the New York City scene for years now, as one of the most prominent big band musicians in the country and bringing his distinctive sounds all across the globe.
The show on December 3 at the iconic SOB's with Mac Gollehon & the Hispanic Mechanics will feature special guest master percussionist Anthony Corrillo from the famed Batacumbele. The December 2 show at Leftfield is James Chance and Mac Gollehon Smokin Section Lounge exudes artistic ambience, peregrinations, wandering sonic interpretation of  standards as well as originals. .December 4 Mac will be at The Silent Barn collaborating with Csigo the brilliant noise artist from Budapest. This set will have a take no prisoners attitude from start to finish. These series of shows will be a truly fascinating look into the scope of a legend. 
Mac is very excited about the upcoming shows which will feature many of his longtime friends and call attention to various sides of his career. He hopes to use this as a jumping off point for a 2017 festival season that will bring him back to the center of the trumpet playing world. Any fan of non-mainstream music or hard hitting trumpet sounds would be remiss to if they missed any of these special events. Mac is back.
Dates:
November 1-Drom. Showtime 7PM one set  Drom is located at 85 Ave A NYC.      
December 2 Leftfield-8PM one set. Leftfield is located at 87 Ludlow St. NYC.     
December 3 at SOB's two shows 8PM and 10PM. SOB's is located at204 Varick St. NYC.      
December 4 The Silent Barn showtime 9:30 PM. The Silent Barn is located at 603 Bushwick Ave  Brooklyn NY