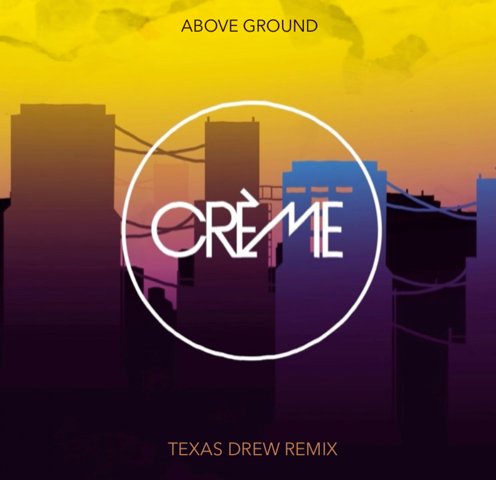 Released this week, Texas Drew's remix of CRÈME's  "Above Ground" is a noted success, retaining the original track's strengths while adding a nocturnal edge to the hook and overall sound. The effort starts with a climactic intro of warming synths, which are quickly accompanied by Trixie Reiss' enthralling vocal lead, firmly establishing as a hooky electro-pop engagement with the bright use of synths. An infectious bridge emerges at 00:52, sporting spirited vocals in guiding to the hook/drop @ 01:19.
The collaboration came to be after some musical connections emerged. "I first found Texas Drew when I heard his remake of Travis Scott's 'Goosebumps' that he and Dani Rae Vaughn made, they completely turnt that song upside down," Trixie explains. "His production is so smooth and way edgy at the same time! So when I started working with Elliot James at Blossom Records, I asked him if he thought Texas might be into doing a remix of one of my songs."
"CRÈME sent over 'Above Ground' and it was such a unique, uplifting song I knew the big vocal layers she has would mesh well with one of my productions. I wanted to take its energy to a new place," reflects Texas. "I chose to give the verses a chill pop feel to create a more dynamic drop. The lead line she already had in the song felt so strong and I knew it'd really play well over a huge chorus section, so that's the direction I took it."
Trixie continues: "I work alone writing and producing my tracks, but I'm always looking to find someone who can bring something new and interesting to what I do. I feel like my prayers were answered on this one. This remix feels like a true collaboration because Texas preserved my song structure but added so much that wasn't there before. I would've never thought of slowing down the song and pairing everything down to it's melodic essence. I LOVE what the did with the drop and that bass, I'm obsessed with that bass!"
On what makes a great remix, Trixie says the following: "A remix is its own entity, often changing genres and opening new potential for a song. A great remix has to just click and work without any questions, it's the ultimate collaboration, where two separate and unique concepts make love and become one."
"Above Ground" is the third single off CRÈME's EP BRÜLÉE. It's another success, following the releases of "Deed", "Beaches", and "YRGM".
—
"Above Ground" (Texas Drew Remix) and other memorable tracks from this month can also be streamed on the updating Obscure Sound's 'Best of January 2019' Spotify playlist.