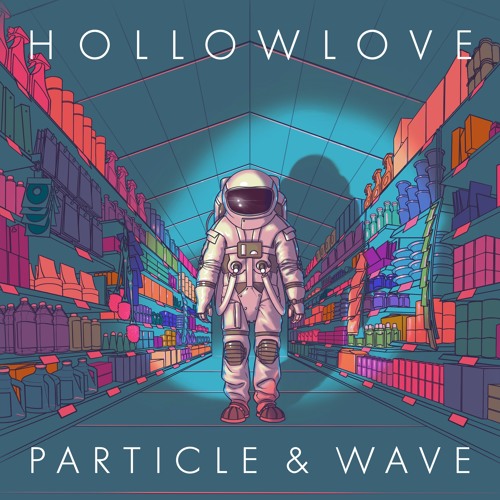 Today marks the release day for Hollowlove's debut, self-titled album. The release is a striking success in its atmospheric synth-pop aesthetic and hooky melodic construction, showing the Vancouver act continuing the captivating sound on previously featured tracks like "Serpentine" and "I Love My Computer." The album is streaming on all platforms, and can be streamed on Spotify here and below.
"Particle & Wave" is one of many highlights off the record, and is among my favorites for simultaneously showcasing the project's atmospheric talents and knack for convincing hooks. The first minute+ features a brooding, nocturnal rhythmic pull accompanied by ghostly synth pads, with nonchalant vocals opening with "You gotta laugh at this crazy life." It's a great build-up to the irresistible melodic pull that follows, which starts its engagement at 01:17, when vocals state the track title over a lush synth arp and less sporadic percussion. The sharp synth stabs at 02:21 start assembling the effort's climax, leading to more clanging percussion and effervescent synth work as the three-minute mark passes. This track remains hypnotizing for all 5+ of its minutes, the "is anybody listening?" vocal fade-out sending chills up my spine and leading beautifully to the illuminated final minute.
The album, streaming below, boasts ample quality in addition to "Particle & Wave." String-laden opener "Hazard Lights" impresses from the get-go, as does video game make-up sex anthem "Reset," and the politically-charged "Serpentine," a track released ahead of the album that made The Sol Of Synthpop's 'Top 5 of 2018.' It's also worth noting that the release's captivating artwork was painted by band member Ryan Slemko, who alongside producer Keith Gillard comprises the emerging Hollowlove.
—
"Particle & Wave" and other memorable tracks from this month can also be streamed on the updating Obscure Sound's 'Best of May 2019' Spotify playlist.
The track is also featured in the genre-based, best-of Spotify compilation Innovative Electronic Music.