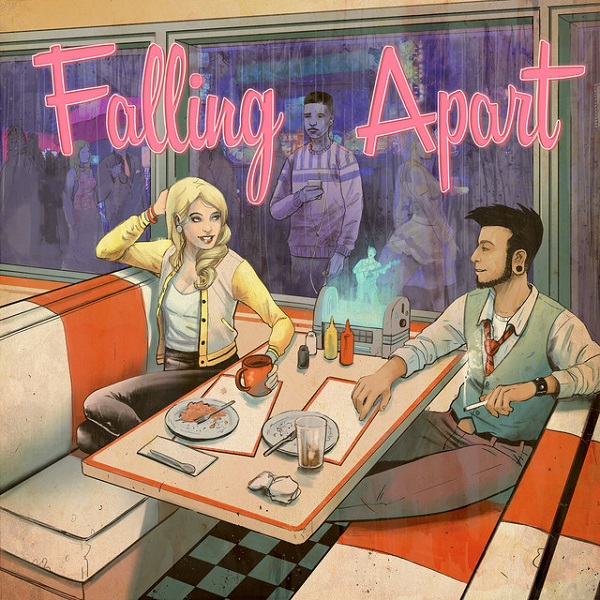 An scintillating breakup anthem with striking vocals and suave Motown-inspired production, "Falling Apart" comes via Nashville-based band Poster Child, featured prior with tracks "Disco Duck" and Death Star Cadillac." The soulful vocals and funky rhythm sections creep toward escalating sequences at the end of each verse, the "falling apart," organ-laden hook emerging tastefully prior to the one-minute mark. Theresa Gorella's vocals emit a sweltering, yearning quality thereafter as the organ accompanies the bluesy guitar licks. "Falling Apart" emits a soft-rock allure reminiscent of TOPS in the verses, while launching forward with a steamy chorus that hooks and doesn't let go.
Poster Child's Andrew Royal elaborates more on the track, below:
"I wrote the first version of Falling Apart back in my college days on the heels of a really tough break up. I've always known that real love never goes away, meaning that if you love someone unrequitedly, it's a little death that goes on forever. In this way, your own love for someone else can be a con artist and thief that continues to rob you of happiness forever.

The line, "You robbed me with your mouth [when] you told me to be loved by someone else," alludes to the moment that I knew for sure that seminal relationship was over.

I made a great little demo of the song in Boston, but it sat shelved for years until I unearthed and revamped it with Theresa in the chilly garage of our band house in the fall of 2017, this time using a Motown inspired guitar line for the verse that goes into a more strait-ahead indie rock chorus inspired by Spoon and The Strokes. We also added a real chorus that ties together all the concepts of the verses and a second verse that adds dimension to the song.

A lot of our songs use quirkiness and levity to mask the real meaning of the music. "A spoonful of sugar helps the medicine go down" so to speak, but this song uses a raw, honest approach that adds a refreshing change of pace to the album.

It was recorded and mixed in my home studio (Silver Tongue) with an emphasis on the Motown sound you might expect from Stacks Records. Influences include Sharon Jones & The Dap Kings, Spoon and The Strokes."
—
"Falling Apart" and other memorable tracks from this month can also be streamed on the updating Obscure Sound's 'Best of December 2021' Spotify playlist.