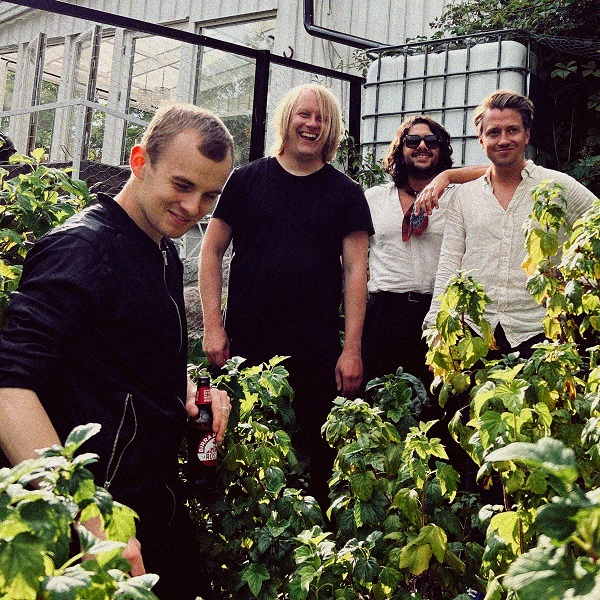 For Big No No's new EP, Three More Songs, in the moment is right…
The EP's trifecta of songs provide sincere character, along with genuine musical and personal elements. These Stockholm neighborhood musicians transport me to gatherings in the living room, on a beaten couch where stories of childhood memories and acquired wisdom through trial-and-error crowd the air, whilst sipping on cheap wine from the local market. We all know when there's heartfelt chemistry and good friends, the music is always sublime.
Three More Songs represents the band's latest creation, following up the previously featured "Letters." The four lifelong friends in Big No No couldn't help themselves, so they let the good times roll and kept the writing and music-making process breathing. The EP is short and sentimental, allowing the audience to sink in the sounds of their own nostalgia. The release includes the tracks "Comeback Kid," "Le Mot Mot Ment," and "She's a Caribou." Peppy guitars mesh with anthemic vocals throughout, for a sound heavy on energy and hooks.
Crafted by innovative minds that are speaking from the soul in their very own love language, Three More Songs continues the band's melodic rock sound. The impeccable and dexterous guitar work is noticeable and subtle all at once, joined with illuminative lyrics that listeners will confidently find relatable. Whether the EP is playing on car ride downtown, or at the kitchen table with your dearest friends, be sure to listen to Big No No make the magic happen.
Stream the Three More Songs EP:
—
"She's a Caribou" and other tracks featured this month can be streamed on the updating Obscure Sound's 'Best of September 2022' Spotify playlist.