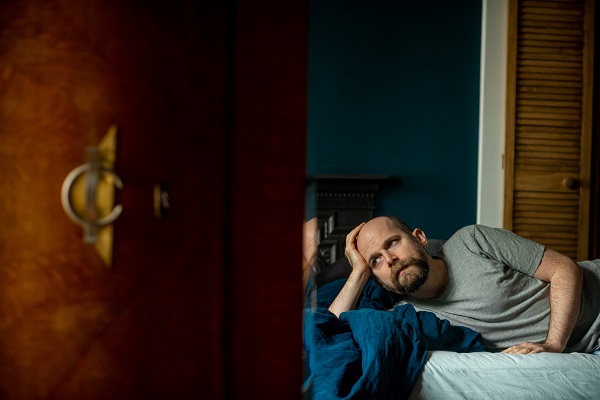 Captivating over the past couple years with tracks like "Genet on Uranus (the Story of Us)" and "One Word," London-based artist Owen Duff delights with his chamber-pop sound throughout the full-length, bed, touting a rich emotive expanse of love and loss.
"All of the songs are set in or around beds," Duff says. "The songs tell an LGBT love and loss story in chronological order, like chapters in a book, whilst also exploring beds as places of intimacy, vulnerability, grief, birth, death and refuge – the last especially for non-heterosexual couples, who may only be safe to express their love in the confines of a bed."
Written over the course of several years, bed combines its flourishing chamber-pop production with thought-provoking lyrical insight, with references to Greek mythology, visual art, and queer literary icons like Jean Genet. Spacey ambience within the opening "Introduction / With my Regards" floats alongside gentle piano and overall tranquility, providing an inviting look at new love. The heart-tugging strings and passionate croon on the following "Genet on Uranus (the Story of Us)" continues the euphoric feeling of love.
Perhaps capturing the imminence of miscommunication in most relationship at some time, "The Dissonance" is especially captivating, traversing from ghostly folk sentiments into a saxophone-laden late-night crawl. "Our Bed is a Graveyard" captures a similarly foreboding darkness, with psychedelic keys driving to a frustrated "it means nothing," outpouring. bed is a riveting conceptual success, showcasing the stirring songwriting of Owen Duff.
Stream the album:
—
"The Dissonance" and other tracks featured this month can be streamed on the updating Obscure Sound's 'Best of December 2022' Spotify playlist.
We discovered this release via MusoSoup. The submitter accepted our content-based offer, which included financial compensation for our time writing, editing, and publishing this article.