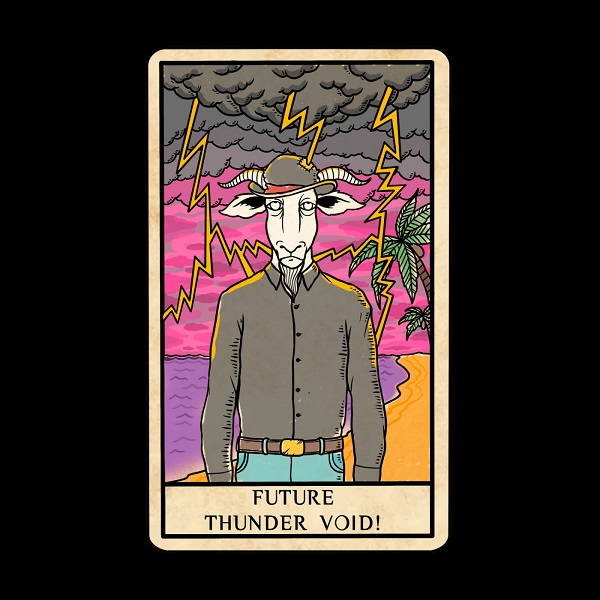 Another hard-hitting EP from Erik & The Worldly Savages, FUTURE THUNDER VOID continues the project's penchant for engrossing folk and punk fusing. Last year's EP, Break Free!, was among last year's most memorable — stirring with its perspective on the grinding and work-oriented emphasis of today's society, with a sound reminding of Tom Waits in its creative passion. Read our interview with Erik Mut (the project's leader) about that release and more, here.
Smooth-flowing brass and twinkling guitars lead into a grandiose, brassy feeling of lofty cinematic allure on the opening "Thunder in our hearts," kicking the EP off with a strong spiritedness. The growth from weary-sounding vocals into passionate resonance, alongside a chirpy horn around 01:40, makes for a powerful sequence. Shades of Tom Waits and Black Midi alike are evident. "Always" is another highlight, presenting another brass-forward sense of fervency that drives into suavely concluding guitar work.
Brassy stomps and moody vocals lead on the entrancing "Scarcity," whose lyrics emphasize the malaise and constant hustle required in life. "All stressed out like that's their thing, will there ever be enough?" the vocals bemoan, noting that "everyone is so stressed out, is that what this life's all about?" The sentiments are wholly relatable, and the ensuing "we don't wanna play this game," chorus adds to this riveting anthem for overwork and societal/class inequalities. The Break Free! delivered similar sentiments in poetic form, and "Scarcity" and this release continue those strengths, alongside a strongly melodic and stylistically charismatic mix.
FUTURE THUNDER VOID
—
"Always" and other tracks featured this month can be streamed on the updating Obscure Sound's 'Best of March 2023' Spotify playlist.