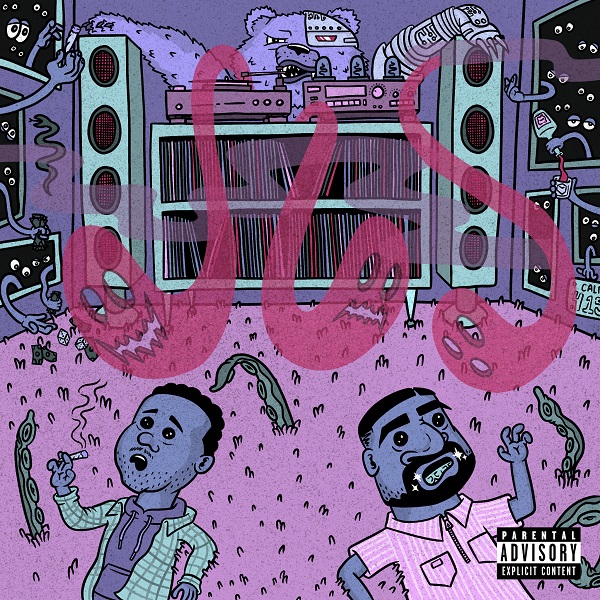 First catching our ears last fall with the atmospheric hip-hop trilogy CREATURES, San Francisco-based duo RPxSB now team up with producer Nomadic on the consuming new album, Shaggy Carpets. The project, comprising childhood friends Roddy Picante and Stay-Bizzy, works brilliantly with Nomadic in further refining their riveting hip-hop sound, melding elements of soul, jazz, and psychedelia.
There's a tranquil sense of overcoming fears throughout. "I'm trippin' over shit that doesn't matter," the initial lyrics admit on "Detrimental," which consumes with its hazy and hypnotic bass-fronted vibe. "The devil is alive, and be living in my pride," the vocals continue. The laid-back guitar tones and soulful backing vocal effects on "Space Dust" are also hypnotizing, exuding a strong allure into "the comedown," hook. "Maybe you're supposed to throw shade to stay cool," the ensuing vocals let out, furthering a lyrical focus on greater self-awareness.
The release's title track is another standout, with a lounge-friendly jazziness apparent in the mellow keys and percussion. Lyrics stir in referencing personal tests and battles, playing cohesively within the smoky keys. Following a fantastic 2022, RPxSB start off 2023 in similarly high-quality from with Shaggy Carpets, bolstered by the fantastic production from Nomadic.
Check out our interview with RPxSB here.
RPxSB elaborate further on the album:
"There's definitely a vintage kind of sound and feel to Shaggy Carpets. While still true to RPxSB form with regards to content and subject nature, the production as a whole done in collaboration with good friend/colleague Nomadic is very neo soul grit. Coming at a time after the angst of CREATURES, it's a surreal, at times, drug induced trip through current life and reality.

Personally, I've been in a creative slump lately. Not necessarily in the sense that I'm running into walls in production, but more so being discouraged by looking at the overall picture of everything. Our content continues to evolve for the better, however our accolades and opportunities aren't progressing along with that. The plight of most artists I imagine Shaggy Carpets aims to break us out of that. And hopefully gain some fans along the way."
—
"Space Dust" and other tracks featured this month can be streamed on the updating Obscure Sound's 'Best of April 2023' Spotify playlist.