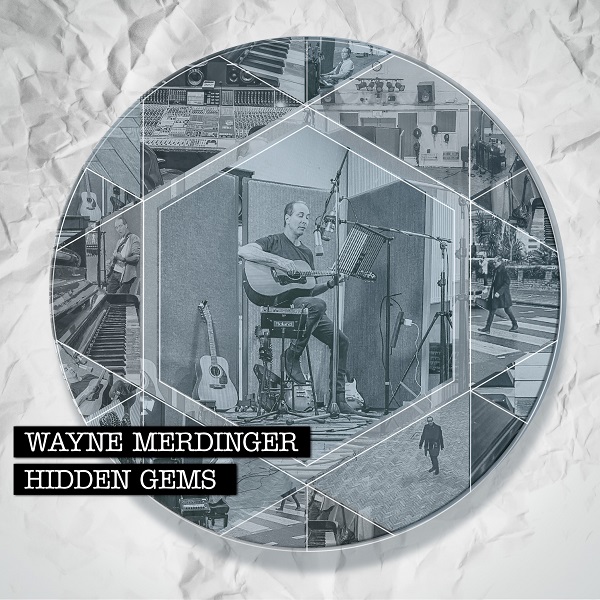 Hidden Gems is the new album from Wayne Merdinger, featured last year with the engaging Troubadour EP. The artist continues to impress with a genuine vein of songwriting featuring melodic piano, emotive strings, and warming guitar work alongside illuminating lyrical content.
The album presents a hybrid of various releases, comprising six previously unreleased tracks alongside six already-released singles. A remaster of Merdinger's 2017 track "Abbey Road" is also included, aptly — since the six unreleased tracks were partially recorded in Studio 2 at Abbey Road Studios.
"I wrote Abbey Road following a 2014 private tour I took of the studio, at which time I never imagined that I would have the chance to record there myself," Merdinger explains. "But low and behold, I did record there, and it was only right to honor that experience with the remastered version of my 2017 tribute."
The opening "Hidden Gems" lyrically emphasizes the release's format right away. "Dust off the chords, break out the lines," is a reflection of Merdinger dusting off several older tracks, putting them in a new light alongside these new ones. Some of the tracks were written in the '90s, and are being released for the first time now.
"Lose to Gain" follows with a heartfelt "beginning to embrace" into arms of comfort, even as temptation proves tempting. "I'm tired and weathered by the storm, but your open invitation seemed so warm," Merdinger sings, with heart-tugging strings entering thereafter. The "if I could only hear your voice," exudes an atmospheric '90s pop nostalgia in its vibrant vocal reflections and playful piano lines. A power-pop pulse stirs in the final minute.
The album shines with an array of folk-minded emotion and hooky structural turns, ranging from the string-laden retrospection of "All My Life" to the brisk folk-laden movements of the opening title track.
Merdinger says: "It was an immense privilege, and a dream come true to work with a group of esteemed producers, musicians, and engineers, at Abbey Road Studios in London, MaD Studios in London, and Brick Road Studio in Scottsdale, AZ to bring this collaborative effort to fruition."
Check out our interview with Wayne Merdinger here.
—
"Lose to Gain" and other tracks featured this month can be streamed on the updating Obscure Sound's 'Best of April 2023' Spotify playlist.