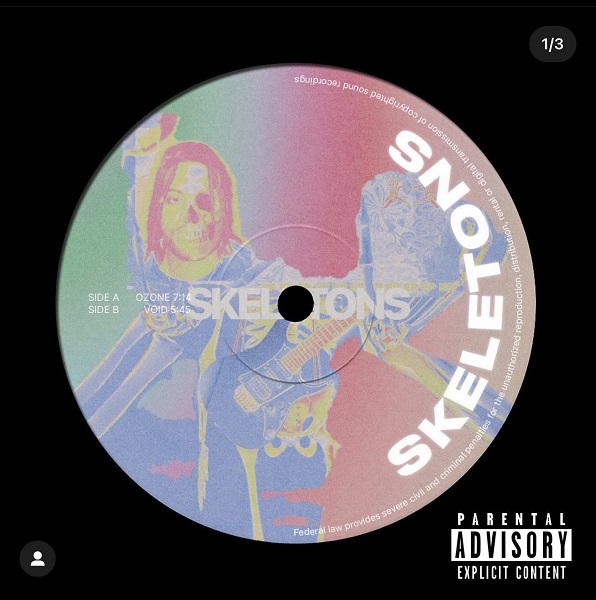 SKELETONS is the melodic, eclectic debut EP from M33CH!, who describes the project as "the culmination of a realization for my love of music." Spanning from the debonair hip-hop of "Profits" to the atmospheric synth-laden pop hooks in "Teenage Love Song," the EP's songwriting and production excels across various soundscapes.
The opener "Bones" struts a retrospective, acoustic-forward lushness — relaying themes of spiraling anxiety and loneliness, into a shimmering textural backing. A tender guitar accompaniment soars alongside the acoustics and backing shine, culminating in the compelling "I'm broken," dual-vocal layering. "Bones" is a standout opener that lures listeners with the artist's prevalent melodic strengths and knack for mood.
The subsequent "The Big Night" also starts its pace with steady vocals and acoustics, all the while expanding into a wholly vibrant pop-minded charm. "Are you hearing me all right? It's the big fucking night," the vocals exclaim, casting an amiable glow with sounding parts pump-up anthem and soulful reminiscer. The upbeat, anticipatory themes resonate into a rousing "tonight I'm out on my own," bridge with exuberant guitar-fronted engrossment.
The EP stirs with its range of acoustic-set contemplation and brisk pop movers alike. The latter is perhaps best accomplished with the excellent "Teenage Love Song." Fleeting guitar jangles and responsive vocals show a late-night appeal into the "lights flash," hook, as the title-touting refrain plays with replay-inducing effect upon the integration of synths and "not again," vocal infectiousness. M33CH! thoroughly impresses throughout the EP, from the hooky drive of "Teenage Love Song" to the hip-hop moodiness of "Profits."