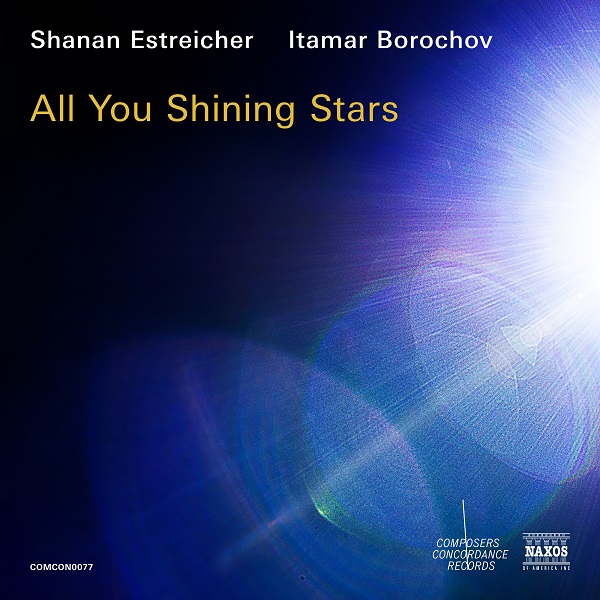 A beautiful classical EP with riveting, meditative qualities, All You Shining Stars combines the talents of composer Shanan Estreicher and trumpet player Itamar Borochov.
A desire to compose work for a soloist has been long evident for Estreicher, a New York-based composer, songwriter, and educator. In 2016, he attended a performance from the Itamar Borochov Quartet at the Montreal Jazz Festival, and instantly connected with the beautiful playing of the trumpeter. Thus, the collaboration was set into motion.
Containing three tracks led by trumpet-forward resonance amidst stirring string arrangements, the EP takes inspiration from Estreicher's witnessing of "a summer evening in the Upper Peninsula of Michigan watching a meteor shower against the Milky Way." Another inspiration is Psalm 148 and its line "Praise him, sun and moon; praise him, all you shining stars."
The EP's first movement achieves a sonorous soundscape with gently ruminating strings, reflective of "praises offered from the heavens in the psalm." Gorgeous brass tones emerge seamlessly thereafter, adding to the shimmering textures. The second movement injects a brisker, icier pace in its strong movements. Psalm 38 is the inspiration here, with the title taking from the line "your arrows have pierced me." Stabs of strings fall into a somber, deep reflection at points, aptly capturing the effort's intention "to reflect the intense pain of the psalmist as he repents to God for his guilt and sin."
The closing track, inspired by Psalm 139, feels reflective and patient in its unraveling, stirring particularly with its extended trumpet solo — meandering with a beautiful stream-of-conscious feeling, and echoing the "polyphony of sacred Renaissance vocal music," in its trumpet and five string sections. The EP is a moving, thematically rich success from Shanan Estreicher and Itamar Borochov.
—
"I. All You Shining Stars" and other tracks featured this month can be streamed on the updating Obscure Sound's 'Best of July 2023' Spotify playlist.
We discovered this release via MusoSoup, as part of the artist's promotional campaign.