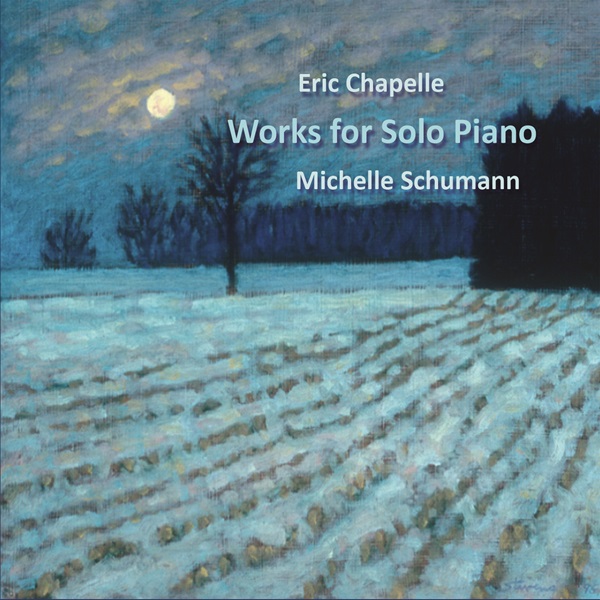 Works For Solo Piano is a gorgeous album from composer Eric Chapelle and pianist Michelle Schumann. The piano works consistently consume with emotional depth and varied soundscapes, from the frolicking vibrancy of opener "Place in Landscape (Baga Beach)" to the spacious mystique of "First Light." Chapelle's captivating compositions are played to mesmerizing effect by Schumann, who is also a Professor of Music at the University of Mary Hardin-Baylor.
The release represents a collaborative effort in full motion, with Chapelle having composed the tracks with Schumann in mind; her ability inspired Chapelle to push past technical challenges. "I felt that having a classically trained pianist read the notations and then interpret the works would greatly enhance the music for the listener's enjoyment," Chapelle explains. "Michelle and I worked for three years on this project. And during that time, I was influenced to write new compositions with her in mind. Michelle's astonishing ability to take on any technical challenges pushed me to write in a different way."
The highlights are numerous. "Place in Landscape Moulin De Senlis" casts a haunting quality to start, reminiscent of Ryuichi Sakamoto's piano works, and then traversing into a spine-tingling intensity of trickling beauty past the three-minute turn. Elsewhere, "Reflection No. 1" emits a romantic, tender quality in its lusher disposition, while the closing "Dusk to Dawn" sends chills with its melancholic, nocturnal soundscape. Works For Solo Piano is a standout showcase in composition and performance from Eric Chapelle and Michelle Schumann.
—
"Transformation" and other tracks featured this month can be streamed on the updating Obscure Sound's 'Best of November 2023' Spotify playlist.
We discovered this release via MusoSoup, as part of the artist's promotional campaign.