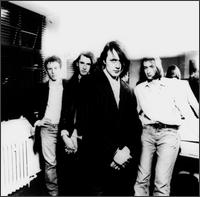 This is the beginning of a feature I'm starting up called 'Dashing Debuts'. Basically, I am taking some of the most impressive album debuts by bands over the years and posting a few songs on here for you to sample. While it may not be exactly new music, it certainly is good music. I post new music most of the time anyways, so a blast to the past shouldn't hurt. Enjoy.
Suede – Suede (1993)
I figured I should start off with one of my favorite bands: Suede. They were one of the first bands to kick off the britpop movement, though their music is darker than the likes of Blur, Oasis or Pulp. Their sound seems influenced from the likes of The Smiths and David Bowie. Not bad influences, eh? Originally fronted by the enigmatic duo of Brett Anderson (vocals) and Bernard Butler (guitar), Suede came out of nowhere in 1993 releasing one of the most memorable albums of the decade as their debut. At the time, it was the fastest-selling debut album in UK history. The self-titled Suede was seen as the beginning of a new era in British music, eclipsed by Anderson and Butler's creative songwriting and Anderson's original vocals. The press unoriginally touted them as the next Morrissey and Marr, and they lived up to their expectations for two albums (Suede and Dog Man Star), but Butler departed due to Anderson's drug issues. Suede continued to release three more albums, but they faded in originality and vision as time went on. Suede departed in 2002, and to many's delight, Anderson and Butler reunited to from the fantastic The Tears. They released their debut album, Here Come The Tears, which was in my top five for best albums of last year. They are working on a new album for The Tears and have not lost their touch one bit.
Suede's debut is basically all great, but I chose my three favorites that represent the album best. 'So Young' is the classic opener to the album, as Anderson crooning "Because we're young" to open up the band became a Suede trademark. The evenly paced 'Animal Nitrate' has a killer chorus and the slower paced 'Sleeping Pills' is great as well, with Butler really showing off his true talent as a guitarist and songwriter.
————————–
————————–
————————–
————————–