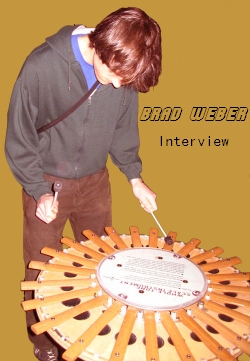 I spoke to the multi-talented Brad Weber of Winter Equinox, Solitary Extraction, and The Royal School Series as he told me about his influences, careers, future and more.
Last year, Winter Equinox made a splash with their album 'Safe and Sound'. With a distinct instrumental (and sometimes vocal) tone, the richly atmospheric Winter Equinox were composed of four professionally musically trained members. Brad Weber was one of the four. Before and after Winter Equinox broke up, Weber was involved in his own solo project called Solitary Extraction. Sounding just as brilliant as Winter Equinox, his originality is in perfect tact and he continues to churn out brilliant material. His new project, The Royal School Series, is brand new but from the sound of it, they sound quite great as well. Audio samples and links are at the bottom of the interview.
-Hi, thanks for the interview. I'll start off with something basic: What was one of the first albums you ever bought?
I think it was an Aerosmith or AC/DC record when I was in elementary school.
-Your previous band (Winter Equinox) and your solo project, Solitary Extraction, both have a very unique and rich sound. Was there anything in particular that made you decide on your primarily instrumental sound?
It all started when I discovered My Bloody Valentine. That was very much a turning point in my life musically. They were like nothing I had ever heard before. Smothering layers of music done in a totally unique way. Experimental yet beautiful. From then I got really influenced by "post-rock" and electronic music like Mogwai, Godspeed You Black Emperor, Do Make Say Think, Tortoise, Boards of Canada, Download and eventually Caribou/Manitoba, Four Tet, M83 and Squarepusher. I just got really obsessed with music that layered so many instruments, sounds and noises together while being so melodic and beautiful at the same time. I really wanted to create that type of music that employed a variety of instrumentation with beauty and an experimental edge. I do enjoy noise as well and like what bands like Sonic Youth and Elevator have done with noise. This is what I decided to create with my solo music as well as the music I made with Winter Equinox.
I enjoy adding vocals from time to time as well, but generally the stuff I come up with doesn't warrant vocals or they just don't fit into the mix as I would like them too, so it stays instrumental.
-My personal favorite song off of Winter Equinox's 'Safe and Sound' is 'It's Always Nighttime Somewhere'. What is the song you are most proud off of that album or in your career?

I enjoy that song too. As for the songs I am most proud of off that album, I'll have to choose a few, since it's hard to pick just one. I'd say "The Queue", "Shiny New Penny" and "It's Always Nighttime Somewhere", although I am very proud of that album as a whole. As far as my own songs go, I think I'm most proud of a song called "Hand of Slight" that I recently completed.
-At what age did you realize that you wanted some part of your career to be in the form of music?
I don't think I really expect to be doing music as a career since so far I've probably been putting more money into it than I've been getting back. I just really enjoy music a lot and want to always be creating it. If it ends up just being a small hobby or if I end up making lots of money, either one is fine with me. It's just something that is really fulfilling to me and brings me a lot of happiness. It's my primary creative outlet and I think it's important for people to find an outlet in life that they can be creative in.
-Your web site mentions that you like to experiment with with "field recordings" and computer manipulation of sounds. What are your opinions on computer technology entering music production more than ever?
I think it gives a flexibility to artists that was never there before. The idea of "going into the studio" is becoming a thing of the past for many artists and bands. Building a small computer studio setup at home is becoming very affordable to the point that so many indie bands are recording at home and never entering the studio. It brings a lot of power back to the artist. For example, Caribou has a very inexpensive home setup and has never entered a studio in his career, yet is very successful. It gives you the opportunity as a musician to really take time with the recording and mixing process. You aren't under the clock and can work on music whenever you have the free time.
Back to the whole flexibility thing, digital editing gives you the opporunity to cut up and manipulate sounds in a way that wasn't possible before. This has led to many new and unique sounds and styles being produced. It is possible for artists to create music entirely out of samples by sequencing sounds and just letting their mind do the creating.
I just think there are so many options now, it's wonderful. Computer technology is helping to create a grass-roots musical community where Artists and Fans are the two major levels.
-How did you first meet Lauren, Robyn, and Dan from Winter Equinox?
I have known Dan for about 9 years now, since early high school. We've always been making music together, in and out of bands. I met Lauren at a show I was playing with my old band Lazyeye in December of 2003. We realized we had many similar musical interests and influences and eventually decided we should form a band. After jamming as a 3-piece for a couple of practices, we realized we needed one more person to complete the mix and give us more flexibility in playing. Lauren asked her sister Robyn to play and the band was born.
-What is your involvement in the new project, The Royal School Series? I really like the one song I've heard from them.
I play the drums for that band. I've also been doing the recording for an EP we are working on. My good friend Angus is also in that band. I've known him for almost as long as Dan and we were together in Lazyeye. This band is more along of the lines of noisy experimental rock and it's a lot of fun to play.
-What is your opinion on MP3 and music blogging?
I think it's awesome. It's a good way to get the word out about great music that is happening right now. I love seeing what different people are discovering and the comments and descriptions they have to say about it.
People like you and others creating MP3 and music blogs are helping to promote and enrich the independent music scene, which is only getting stronger.
-Now that the members of Winter Equinox have gone their separate ways, what are your plans for the future?
I plan to complete my third solo album in the next few months. I haven't completed one since 2003 and feel that my music has progressed a lot since then. I'm excited to get this music out there. I hope to do my solo stuff live. I have talked to my friend/bandmate Angus about creating a live band with just the two of us to play both of our solo music. He has recorded a number of solo albums in the last several years. Since there's only two of us, we'll probably take a hint from Winter Equinox and use headphones with a click track to employ some pre-recorded tracks live to make the sound fuller than two people could create. I also plan on finishing an EP with my new band The Royal School Series and playing lots of shows with that band.
Links: (visit Solitary Extraction's page for purchase info and tons of MP3s)
Solitary Extraction
Winter Equinox
The Royal School Series
—————–
Audio Clips:
Solitary Extraction – Bells and Swallows

[audio:http://www.bradweber.ca/music/Solitary_Extraction-Bells_and_Swallows.mp3]
—————–
Solitary Extraction – Hand of Slight

[audio:http://www.bradweber.ca/music/Solitary_Extraction-Hand_of_Slight.mp3]
—————–
—————-
—————-