Posted
March 29, 2006 by Mike Mineo
in Features
MUSIC DOWNLOADS – #25 – LUXXURY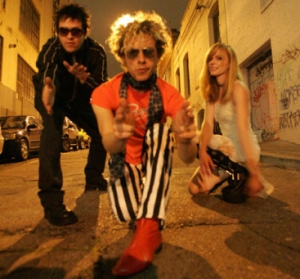 While several British bands have been embracing the new synth-rock outburst, American bands have been somewhat reluctant. San Francisco's Luxxury appears to be one of the premier bands breaking out the modern sound to casual American listeners. London's Synthpop called them "one of the finds of the year," and that is certainly true. Led by enigmatic singer Baron Von Luxxury, backed by Sha, Rico, and (occasionally) Devin – they create music that could be compared to a lighter Depeche Mode, but their influences are too endless to continously list. They are all good influences though, in the vein of New Order and David Bowie. The irresistable groove charged with Baron Von Luxxury's vocalistic sexual swagger create something that is quite addictive and simply genuine.
'Something Going On' and 'Dirty Girls (Need Love Too)' both can be easily sung along too, and hell, I'd recommend to dance along to it too. The upcoming chorus is sensed throughout both songs, in a likable manner. Little tweaks such as the feminine whispers in the background of 'Dirty Girls (Need Love Too)' and the irresistable chorus in 'Something Going On' prove to be two songs that are capable of, and currently recieving, some great radio play. You can now preview and buy their EP, Drunk EP, below. I highly recommend it.
——————————
[audio:https://obscuresound.com/mp3/Luxxury-SomethingGoinOn.mp3]
—————————–
Luxxury – Dirty Girls (Need Love Too)
[audio:https://obscuresound.com/mp3/Luxxury-DirtyGirlsNeedLoveToo.mp3]
—————————–
Mike Mineo
I'm the founder/editor of Obscure Sound, which was formed in 2006. Previously, I wrote for PopMatters and Stylus Magazine. Send your music to
[email protected]
.