Posted
April 10, 2006 by Mike Mineo
in Features
MUSIC DOWNLOADS: FINAL FANTASY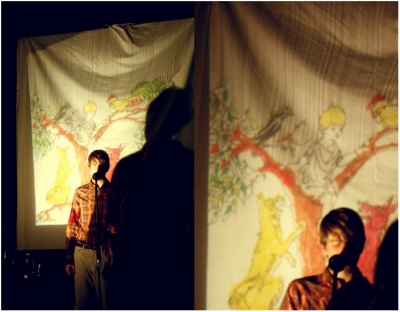 Owen Pallett created his project Final Fantasy when his friend and fellow musician, Patrick Wolf, was in need of an opening act. Pallett created some simple songs to aid his friend and created his own opening act, entitling it Final Fantasy. His inept and great string work has been contributed to big names such as the Arcade Fire, Hidden Cameras, Death From Above 1979, and Picastro. Pallett co-wrote the strings on Arcade Fire's acclaimed Funeral. The name stems off his interest in Japanese culture and the Japanese produced video game, Final Fantasy. While Pallett claims he originally made the songs to impress boys he had crushes on, it later developed into a love for music in general. Perfecting his songwriting talents, his second album He Poos Clouds releases later this year. His debut album, Has A Good Home was full of enjoyable songs, but his songwriting ability has improved immensely with He Poos Clouds. Despite the odd name, the album is one of the strongest albums released so far this year.
The three songs I chose to share are a few of my favorites. On his first album, Pallett's songs remained enjoyable but similar sounding, but in He Poos Clouds, all songs have a different feel and atmosphere to them. The second song on the album, 'He Poos Clouds' (originally titled 'Illusion Song') has been a live favorite for a bit, and the studio version is nothing short of exceptional. The song is straightforward and very fun, and when Pallett shouts, "cocaine!" it is a surprise but amusing. 'This Lamb Sells Condos' utilizes Pallett's first talent in instruments — the piano. Yes, Pallett learned piano before he learned violin. His piano work is just as exceptional as his violin work, though its his songwriting that shines over his playing. The child-like vocals in the latter part of the song are great, capping off a great finale to the song. 'Many Lives -> 49 MP' is most likely Pallett's great string work to date, in terms of playing and songwriting. The lyrics are also very enjoyable, as Pallett muses about obesity and anorexia as the character "spends all his time on his waistline". The subjects on Final Fantasy's second album are very diverse, as are the songs. Highly recommended.
————————-
Final Fantasy – He Poos Clouds
[audio:https://obscuresound.com/mp3/final_fantasy-he_poos_clouds.mp3]
————————-
Final Fantasy – This Lamb Sells Condos
[audio:https://obscuresound.com/mp3/final_fantasy-this_lamb_sells_condos.mp3]
————————-
Final Fantasy – Many Lives -> 49 MP
[audio:https://obscuresound.com/mp3/final_fantasy-many_lives_49 mp.mp3]
————————-
Mike Mineo
I'm the founder/editor of Obscure Sound, which was formed in 2006. Previously, I wrote for PopMatters and Stylus Magazine. Send your music to
[email protected]
.