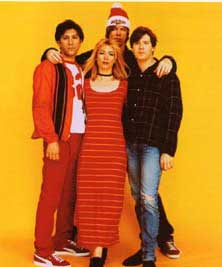 Ah, nostalgia at its finest. I'm sure many of us can look back at our childhoods during our crazy times, and pinpoint certain bands to go along with certain events, well this is my case anyways. Sonic Youth are one of those rare bands that still are going strong after three decades of brilliant music. Thurston Moore, Kim Gordon, and company have always seemed to manage such a precise and active formula in creating songs. Sonic Youth continue their great career in their new album, Rather Ripped, which releases later this year. The brilliant guitars that made them so visionary with Sister and Daydream Nation are still consistant and great. Rather Ripped is much more accessible than their previous release, Sonic Nurse, which was also a great effort, but at times was too innovative for some tastes.
I won't waste my time describing the first two songs off of Rather Ripped. 'Incinerate' is outstanding, and 'Reena' is a very fitting opener. All I can say is that Sonic Youth fans will not be disappointed. Also, new listeners will find it appealing as well as the two songs are some of their more accessible stuff in years. Unlike some other big names that release albums this year, I sincerely doubt that Rather Ripped will disappoint.
—————————
songs removed…
—————————
If you are a music lover, do you need home entertainment centers?    If you're in the market for music storage, simply look to the Internet for awesome product discounts. Whether you're searching for home electronics or want to get a great bargain on womens boots, you will discover nearly everything you desire on the Internet.